Will you indulge Mama Bear today as I share from my heart a few words of remembrance and tribute to my Mama?
These beautiful flowers sit on my kitchen counter today and remind me of how blessed I was to have her in my life.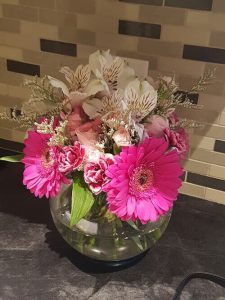 November 22, 2017 would have been my Mama's 86th birthday.  My mother, Margaret Reesor, passed away on November 11th.  We joined together with family and friends last Friday to celebrate a life well lived but also to mourn the loss of a dear mother, mother-in-law, nana, sister, aunt, cousin and friend.
I have come to realize that it really doesn't matter how old you are or how old they were……it is hard to lose a parent.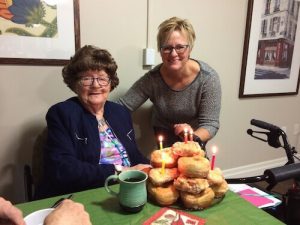 The past year has been hard for my brother Jeff and I as we watched mom's health decline.  We are both thankful for all the good memories that we have of a mom and a dad who loved us very much.   As mom's health deteriorated the blessing was that it drew Jeff and I closer together.  Mom had moved from her lifelong home in Milverton, to Kitchener 2 1/2 years ago.  Her new home at Highland Place Retirement Residence put her closer to Jeff and I.  It was easy for us to take turns dropping in to see her regularly.   We enjoyed lunch out together on many occasions and mom was always a good sport.  This is a photo we snapped last summer after lunch at A & W.  Nana Bear's grandkids all got a good chuckle when we texted this off to them.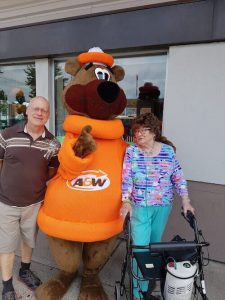 It was in late August of this year that Mom made the move to long term care at The Westmount.  As her health declined it was evident that she was ready for heaven and Jeff and I were in unity feeling the same way.  Things had changed so much and we were already starting to grieve the loss of our mom, even though she was still with us.  My brother and I became caregivers and advocates for our mom.  This brought lots of emotions and I'm guessing many of you can identify with this role and all that it means in your adult life.
My mom had a beautiful ministry of good cheer which was her "Reflections" books.  She created these little books and handed them out.  They were just simple pocket photo albums but mom penned a clever saying or quote, added a picture and assembled them into the album.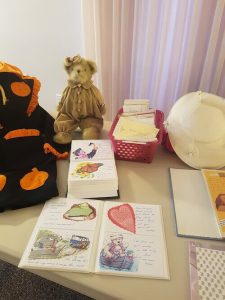 They were her life for so many years.  They were what got her out bed in the morning and what got her out of the house regularly.  Last week as I went through mom's things I found her tally page – 1,167 books given away.
Here are just a few examples of the notes she had made on that tally page about who she gave the books to:
#121 young amish couple with 5 children in at McDonalds
#142 the nurse at Dr. Spiers office
#159 – #168 the church confirmation class
#203 – don't know this lady's name but God sent me to her…..what a life and what a smile
#275 Clerk at McDonalds in Stratford
#391 old couple walking hand in hand in the parking lot
#409 girl who asked God for help or she would commit suicide
#460 the return clerk at Wal-Mart
#530 a boy in stratford who held the door for me
#730 waitress at swiss chalet
#755 lady that I saw going the extra mile
#823 Clerk at the Stratford $ store
#999 farmer from mount forest
#1015 widow at McDonalds who was feeling lonely
#1021 lady at KFC – her daughter just diagnosed with Lou Gehrigs disease today
#1028 old couple at Harvey's – loved that I gave them a book with the dog on the cover thanked me over and over 13 times.
Here are just a few of the sayings that were in her book – some thought provoking, some good for a chuckle.
We stand the tallest when we stoop to help others.
Of all the things I've lost, it's my mind I miss the most.
The truth of the matter is we always know the right thing to do.  The hard part is doing it.
It's hard to be a smart cookie if you have a crumby attitude.
An optimist is one who makes the best of it when getting the worst of it.
The Lord is my shepherd what more could I want?
Getting back on the right track usually involves getting out of a rut.
Don't let life discourage you.  Everyone who got where he is had to start where he was.
Can it be an accident that "stressed" is "desserts" spelled backwards?
A life hemmed in prayer rarely unravels.
People are like tea bags.  They have to be put into hot water to see how strong they are.
My mama was a pretty spiffy lady.  She loved to get dressed up and she always looked great.  She wore make-up, jewelry, painted her nails and had some pretty great outfits over the years.  Her last chance to get a new outfit for a special occasion was for Hayley's wedding in June.
Mom was always a good sport about dress-up.  We have lots of great memories of dressing our kids up at Halloween and making the trip to Milverton to show off our costumes.  In the early years Nana (and papa) would greet us at the door all dressed up too.  In later years Nana continued the tradition.  Our kids have lots of great memories of dress-up at the trailer when they were there for summer holidays.
Nana had one consistent Halloween costume through the years.  It was created way back when she would dress-up on Oct 31st at CIBC.  She created her Miss Pumpkin Costume.
She appliquéd the pumpkins on the skirt, hand stitched the orange ruffles to the jacket and topped off her delightful ensemble with the spiffy orange hat that she had worn on her honeymoon.  Mom always had a purse to match every outfit, and her Miss Pumpkin costume was no exception. She used a beautiful hand knit bag made by her dear friend Eva Joy.  She added an orange flower on it as the perfect accent.  My regret is that I can't show you the shoes that went along with it.  She had added orange ruffles to very high heeled black patten shoes.  They were what she wore in her years at the bank.  She tried them on the first year that she was at Highland Place, but decided with a smile that "those years were past".  She happily put on the full costume though (with her sensible black shoes) and headed off down the hall with her walker to be Miss Pumpkin for the day.
This particular photo of Mom dressed as Miss Pumpkin was taken in 1992.  Her and my dad greeted our family at the door on Halloween night decked out like this 🙂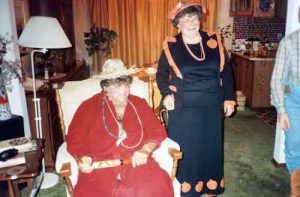 There was a cartoon that my mom had on her desk back when I was a kid.  It said Old Bankers Never Die, They Just Lose Interest.  Mom spent over 30 years working at the Bank of Commerce in Milverton.  It was a career she loved!
This is a photo of the bulletin cover at Mom's funeral.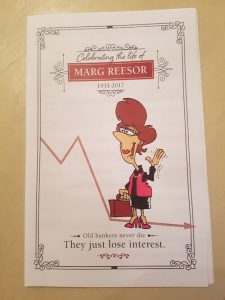 Mama's faith was at the very core of who she was.  Jeff and I were brought up knowing that Jesus was real and He cared about us in every aspect of our lives.  We knew that when, as little kids, we asked Him into our hearts, then we had the promise of eternal life in heaven one day.
My mama (the old banker) will never die, she had the promise of eternal life in heaven and that is hers today.  Yes she lost interest in the things of this world…….but she has life in heaven.  No more pain, no more suffering…….Thank you God that Old bankers never die they just lose interest……
I'll close off with one of the sayings that Mom included in her Reflections book.  It always makes me smile……
As you slide down the bannister of life may all the splinters be pointed in the right direction!
---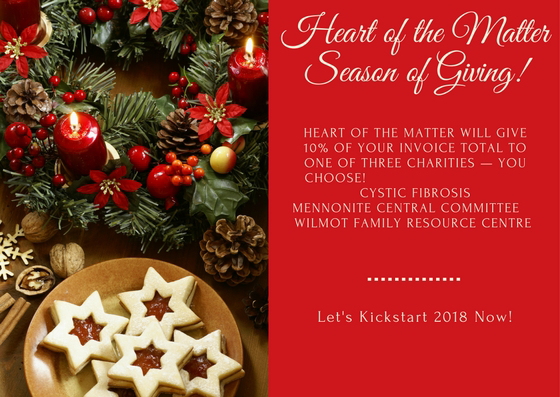 We are excited to remind you about our Season of Giving!  Book your project with Heart of the Matter now and we will give 10% of your invoice total to one of three charities — you choose!                                  
Mennonite Central Committee                                                                                                                               
Wilmot Family Resource Centre                                                                                                                                                
Cystic Fibrosis
Contact us today to book your session!  This 10% Gift of Christmas applies to any job booked between now and January 15th.  Why wait?  Make your commitment now to Organize and Declutter in 2018!  You and your family will benefit from your decision,  and as an added bonus one of these wonderful charities will benefit alongside you!
Christmas Gift Certificates available from Heart of the Matter for YOU (tell your family!) or for a friend or family member.  You can opt for 'hands on' organizing assistance or a DIY consultation.   Check out our package options.
Simplify Christmas 2018!