Do you find yourself thinking...
My mess is getting the better of me.
No job is too small or too big!  This is what we do for a living.  Nothing surprises us and nothing phases us.  We have helped over 400 clients with their organization needs since 2004.  This is what we do day in and day out.  We've seen it all, and are still enjoying what we do.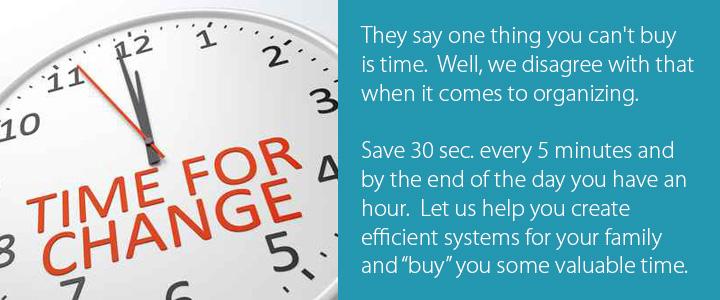 I don't want someone to throw out my memories!
It's your stuff, not ours.  You call the shots.  We won't get rid of anything without your permission.  You are welcome to inspect every bag that leaves your house.
You are truly amazing ladies and I thank God for bringing you into my life when I really needed the help.  My biggest fear before you came was thinking I would not be in the mind frame to get rid of stuff.  I am so glad I was.  I feel so good about what I got rid of.  I can't believe how easy it was this time.  You made that possible.  Thank you from the bottom of our hearts.

Cheryl Greene
We come alongside you to offer a bit of our heart, not a piece of our mind.
What if everyone finds out that I needed your help?
Well, if they do, it won't be from us!  When you sign your contract with us, we'll go over our strict rules for maintaining your confidentiality.  All of our staff sign a confidentiality agreement as a condition of employment.  We have removable advertising magnets that we'll take off our vehicles when we're in your neighbourhood if you prefer.
I just wanted to say thank you for coming yesterday!  I knew I needed the help in the kitchen, but I didn't realize how much of a difference to my overall mental health you would make!  I am sitting here before 10am.  Isaac and I have enjoyed our oatmeal for breakfast and then we made a salad together for lunch which is sitting in the fridge.  Our mid-morning snack is also sitting waiting for us.  Then I pulled out a cook-book, found something to make in the slow-cooker, and made it.  All of my dishes are done and drying, floors are swept, table washed.  Mornings are my best times - I have the most energy and the least pain.  But the kitchen would drain my energy, and the thought of doing all of that was too much - so I have typically been starting to think about supper at suppertime, and you can imagine how well that works out!

So thank you, thank you, thank you!  That was the best money I could invest into my kitchen!  One day, when I do get around to my renovations, I will definitely be calling you to help me plan it out!

April Patterson
Subscribe

to our Newsletter!

To stay up to date on the latest events, news, tips and tricks from Heart of the Matter Professional Organizing.