What does it mean when parents say
"Go Clean Your Room" ?
This week we welcome our guest blogger Diana Murdoch.  I met Diana back in the early years of our business when Rhonda and I connected with her and her daughters Heidi and Melinda.  We have crossed paths again over the years, but it was this post on Diana's Facebook page that recently caught my eye.  Check it out!
Your room is a mess. You need to tidy it up. Go clean your room!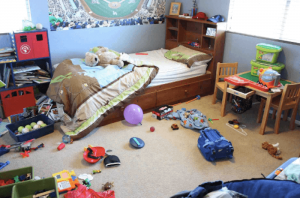 These words can be overwhelming for kids at any age and skill level, but particularly children with learning challenges are going to have difficulty responding to this request. Inability to comply with the age-old "clean your room" command is fairly common, and most kids could use some help figuring out how to get that job done.
If your children can't seem to "clean their room", here are some suggestions to help them succeed.
The "clean your room" request is too general for most children, but especially those with listening or learning challenges. So the first thing you need to do is break down the request into sections that are understood and can be accomplished.
Easy as 1 2 3 4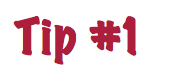 Make your bed.
This requires that everything is taken off the bed, the bed is made, and a nice, big, clean area suddenly appears. One big thing done is very encouraging.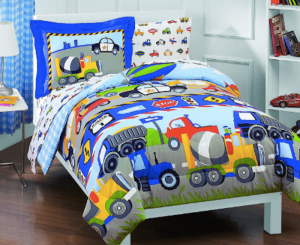 The second benefit is that the flat area just created is great for sorting activities that are needed to get the rest of the room done. Making the bed should be simple. Some families give kids a sleeping bag that just needs to be zipped and laid nicely flat so the children can comply with "make your bed". Find a bedding solution that works for your child.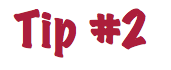 Pick up your clothes.
The big idea is to get all the clothes into one place. Put the laundry basket at the end of the bed. Now, as you pick up clothes, sort them into clean and dirty. Dirty goes in the basket, and clean goes on the bed.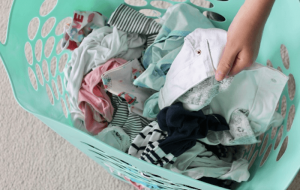 Let's face it, most of the clothes will be dirty, but now and then, someone has been living out of a "clean" basket or "clean" pile that hasn't been put away since last laundry day. Once all the clothes are picked up, they should get put away in drawers, on hangers/hooks or into the laundry basket. The made bed provides a flat surface for folding any clothes that are going into drawers.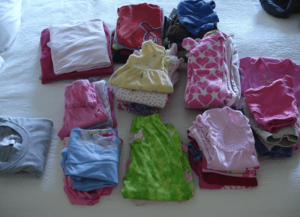 Take a look around. Wow! That's progress!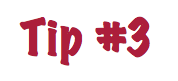 Put away your toys.
For kids who have difficulty with tidying, a big toy box is great to get the job visually done.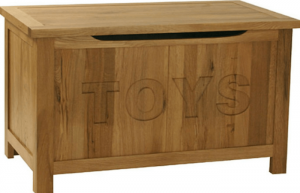 Eventually, once sorting and organizing skills become stronger, displaying toys on shelves can be encouraged. First steps though, should be simple. Just pick them up and put them in a bin, box, chest, storage place.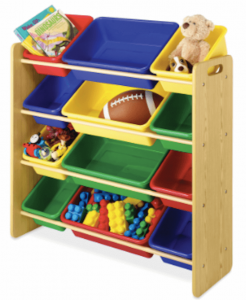 What's left?
Books and school supplies.
If your child has a desk, and book shelf, that's where things go.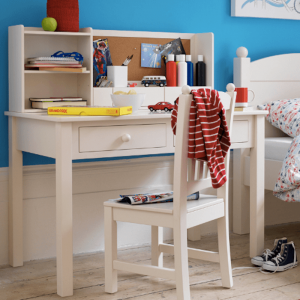 But for many younger kids, school things go in the back pack,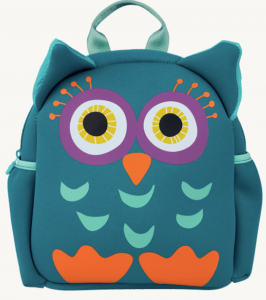 and beloved bedtime books have a place on some shelves or a bedside table.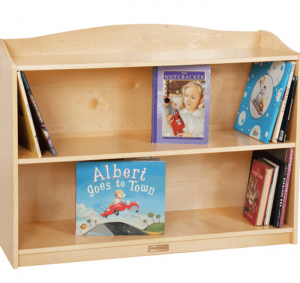 It doesn't have to look fancy. Things just need to get to their place.
So now, the floor should be picked up, clothes should be gone, and there should be a general sense of order. Yes, the dresser tops and closet floors may still need work, but for a child struggling with organization, these four steps can make a big difference in self-esteem.
Now is the time to lavish them with praise.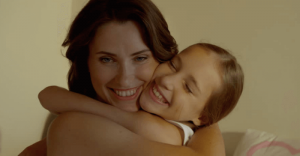 When you are training these steps, do them with your child. You may have to train this 1-2-3-4-clean your room routine over and over with them to help them learn how to do each of the steps. It's no fun going to your room to attack it all on your own, so be sure to go along for the first while. Once your child can reasonably go through these four steps, guide them by saying things like , "the bed is done. What's the next thing we need to do?" When you start sending them on their own, be sure to check in often with encouragements.
And lastly, be willing to break down the steps even further. Repetition of steps, habits, routines, can be comforting and encouraging when a child feels they can't get a handle on their world. So instead of saying, "go clean your room", say "go start your room routine. I'll be there in a few minutes to check your progress. What's the first thing to do?" Expect them to say, "make my bed." They may still hang their head and trudge to their room, but at least they will have an idea of what to do when they get there
Donna here again……
Diana is speaking our language!  Her message is clear, concise and designed for success.  Can you take this principal and apply it to your own life as an adult?   On jobs that need to be done around your home…
Think progress, not perfection.
Break down a task into simpler sub-steps.
Reward yourself as a form of encouragement.
Check out part 2 of Diana's Teaching Kids to De-Clutter series!
Diana Schreiber Murdoch has been writing since childhood. Stories, poems, songs and notes with positive messages have flowed from her pen all her life. However, she didn't consider herself a writer until her story was published in an anthology, "Chocolate and Diamonds for the Woman's Soul." Now Diana contributes to blogs, writes articles for online magazines, entertains on her own facebook blog "Unconventional Wisdom" and enjoys writing inspirational notes, letters and posts to share God's love from the abundance of her life raising 3 children on a shoestring budget. You can contact Diana at melody.murdoch@gmail.com