I must give the disclaimer before I get going here that Papa Bear plays a big role in food preparation at our house. I couldn't do it without him!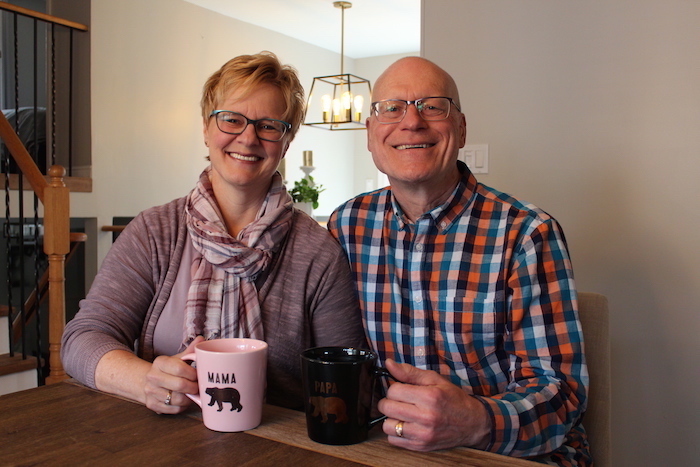 I'm the planner and the chooser of menu items, but Papa Bear is very willing to help with grocery shopping & food preparation. This is a reminder to all of us, that meal prep shouldn't fall to one person. Everyone is happy to join in when dinner is served, so everyone needs to know all that is required to get that yummy meal to the table.
I have always looked at food prep with the philosophy of Cook Once – Eat Twice. I've included some of my favourite recipes for you at the end of the blog 🙂
To me Cook Once – Eat Twice means that when you have put the thought into what to make and you have all the ingredients out on the counter it really doesn't take that much longer to prep up a double batch of whatever you are making. The more you get to think this way the more it will start to happen naturally.
If you are browning ground beef for chili, why not brown a couple of pounds and either double up on the chili recipe or use the cooked meat for tacos the next night? You have the stove on, just get another frying pan going and Cook Once – Eat Twice.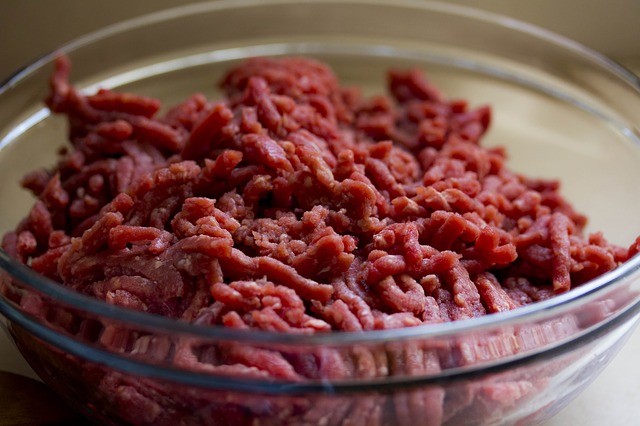 Sometimes large batches of certain things are easier cooked in the oven in a roasting pan rather than on the top of the stove. I do this for my large batch of pumpkin chili and for a couple of other things as well. (I've included all the recipes I mention below).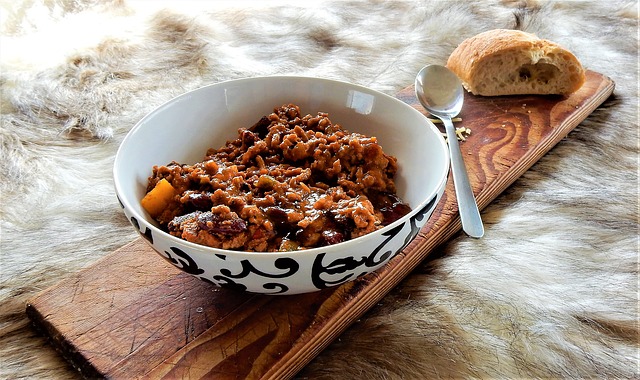 When doubling up, you can eat the same thing for supper a couple of times during the week or you can freeze a few portions (family size or individual) for later. Another advantage to Cook Once – Eat Twice is that you may find it becomes manageable to share a portion with someone who has a family emergency or is just home from the hospital with a new baby. Leftovers from large batches also make for quick and easy lunches the next day.
Some labour intensive recipes such as lasagna (there are so many kinds – Butternut Squash Chicken Lasagna, Mexican Lasagna and more!) are something I really love to double up on. Again, if you are in the mess, it is so much easier to just set your two pans on the counter and systematically work through doubling the recipe. Cook Once – Eat Twice!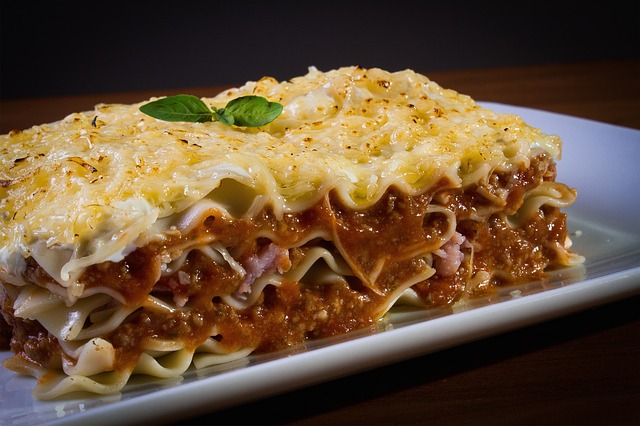 Quick and easy recipes are naturals for doubling. We have one that we call Speedy Suzanne because it came from our friend Suzanne and it's speedy – Name is just a natural 😉
It literally just requires the dumping of a few ingredients and a bit of cook time. It is a tasty and nutritious family meal and freezes beautifully.
Soups are also great. I always get two dutch ovens on the stove top when I'm making soup and put a batch into each. My hamburger soup is just one example of a quick and easy "doubling option" that makes for a delicious hearty family meal.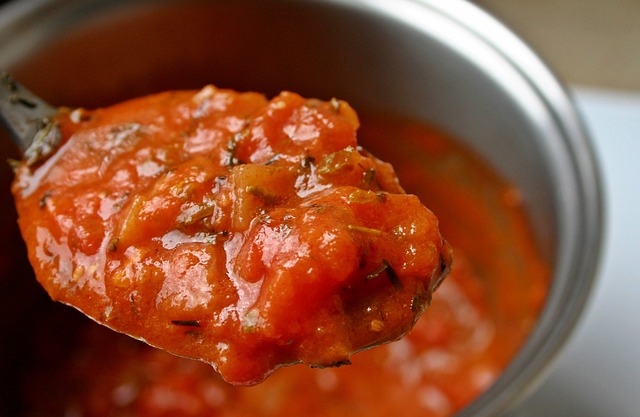 One of Papa Bear's Cook Once – Eat Twice specialties is his mashed potatoes. He uses white potatoes (scrubbed by not peeled) and throws in a couple of sweet potatoes for the 2nd half of the boiling time. He mashes them up with some milk and butter and they have always been a hit with our family. He follows in the tradition of his dad who was the "potato masher". In recent years Papa has taken to making a big batch from time to time and freezes portion sized lumps on a parchment covered cookie sheet. When they are frozen slide them into a freezer container. To reheat (from thawed or frozen) place in a covered casserole dish with a little bit of water and warm in the oven.
Don't limit the Cook Once – Eat Twice to suppers. I love it for breakfasts too.
We make a double batch of Pumpkin Spice Breakfast Quinoa and freeze it in ½ cup servings on a parchment paper covered cookie sheet. Once frozen, we slide them off into a large ziploc bag. Get one out of the freezer the night before and it is thawed and ready to add berries, nuts or toppings of your choice for a delicious breakfast.
Another breakfast option is to saute up a big pan full of veggies. This can include everything from onions, peppers, celery and zucchini to spinach or kale. Spread the cooked vegetables in a 9 x 13" oiled pan.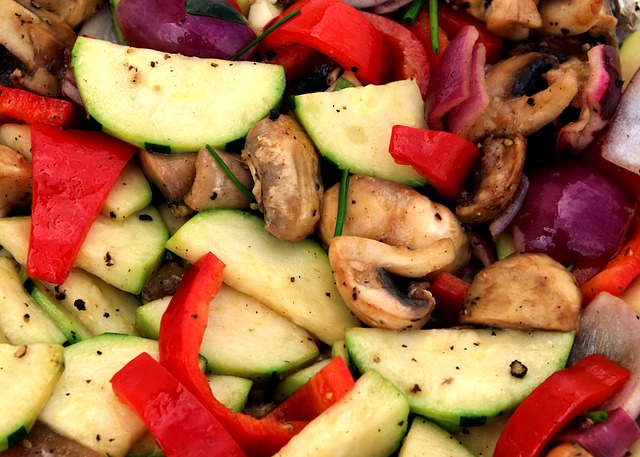 Whisk up a dozen eggs and pour evenly over the vegetables. Bake at 350 degrees for approx. 45 minutes – until the egg mixture is set. Allow to cool and cut in squares. Freeze on parchment lined cookie sheet. When frozen, slide into a large ziploc freezer bag. Defrost and warm before eating as a yummy breakfast omlette. Add a side salad and it is great for lunch or supper too!
Before I close let me share a link to a brilliant meal prep idea that I have come across just recently. This is from Kendra the Lazy Genius. (**As an aside, man I wish I had thought of that name). She has so many great ideas as she is always looking for the best and most efficient way to do things. If you haven't already checked her out do it!
Her recipe for Change you Life Chicken – will…… well, it will Change your Life! Note** I double up on this recipe too. It is just as good re-heated the 2nd night!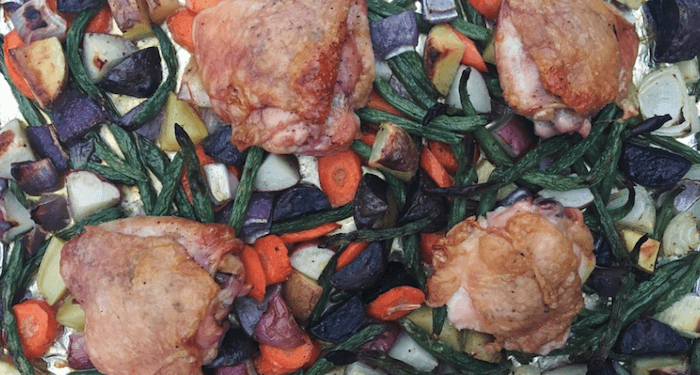 It just so happens that Papa Bear and I are planning a big cook this week-end 🙂 We are brand new grandparents!! Our tiny Josephine has arrived. She was a month early so we hope that her busy mommy and daddy might appreciate a few freezer meals to enjoy in the whirlwind that is ahead for them as a new parents.
Here are a few favourites from the kitchen of Mama Bear & Papa Bear. Let me know if you decide to give them a try, or if you have some quick kitchen tips that you'd like to share!
Donna's Oven Chili
2 onions chopped
2 green peppers chopped
5 tbsp chili seasoning (I use a homemade spice mix)
1/2 tsp salt
2 cans diced tomatoes
4 cans tomato paste
2 cans crushed pineapple
3 cans sliced mushrooms (drained)
4 cans beans in tomato sauce
2 cans white kidney beans (drained and rinsed)
2 cans tomato sauce
2 pounds ground beef
Brown the ground beef. Put it in roasting pan with all other ingredients.
Cook uncovered in oven at 325 degrees for 3 hours – stirring every 1/2 hour.
A Schmidt Family favourite is to serve this chili on top of baked potatoes. Top with chopped green onions, grated cheese, sour cream and bacon.
Pumpkin Turkey White Bean Chili
2 pounds ground turkey
1 tbsp olive oil
2 tbsp garlic powder
2 tsp chili powder
4 tsp cumin
2 tsp oregano
2 medium onions, chopped
2 carrots, chopped
5 stalks celery, chopped
4 – 15 oz cans white kidney or navy beans, rinsed and drained
2 cans pumpkin puree
4.5 oz can chopped green chiles (optional)
4 cups chicken broth
4 bay leaves
2 cans full fat coconut milk
Brown meat & spices in frying pan and then place in roasting pan. Add chopped vegetables and all remaining ingredients with the exception of the coconut milk.
Cook uncovered for 2 hours at 325 stirring occasionally. Stir in coconut milk and combine well before serving. Delicious served with crumbled Riceworks Chips, chopped cilantro and a blob of sour cream.
Easy Mexican Lasagna
2 cups cooked chicken, chopped
2 tbsp chili powder
2 tsp cumin
1 (4oz) can green chilis
1 cup sour cream
1 1/3 cup salsa
1 (15oz) can black beans, drained and rinsed
1 (15oz) can corn, drained
10 corn tortillas, cut in half
2 cups shredded Mexican blend cheese
3 tbsp fresh cilantro, chopped
2 tomatoes, diced
Preheat oven to 350 degrees.
Grease 9 x 13″ banking pan and spread 1/3 cup salsa on the bottom of the dish. Set aside.
In a large bowl, combine chili powder, cumin, green chilis, 1 cup salsa, sour cream, and 2 tbsp of chopped cilantro. Fold in chicken. Set aside.
In a small bowl, combine corn and black beans. Set aside.
Layer about 5 tortillas on the bottom of the baking dish, making sure you lay the straight side of the cut tortilla on the sides of the dish. Spread half of the chicken mixture over the tortillas, then half of the bean mixture followed by 1 cup of shredded cheese. Repeat the layers.
Cover with foil and bake for 40 minutes. Remove foil and bake for an additional 10-15 minutes. Serve topped with diced tomatoes and remaining cilantro.
Butternut Squash Chicken Lasagna
This is a recipe I created myself so the method may feel a little vague. However, the lasagna seems to turn out great every time. First of all, it is much simpler to use canned pumpkin rather than butternut squash and personally, I can't tell the difference. It saves the whole step of having to peel, cube, roast and puree a squash. I'm all about working smarter not harder!
Homemade pumpkin sauce
Combine in bowl and whisk until smooth and well blended:
1 large can pumpkin puree
1 can coconut milk
1 can tomato paste
1/3 cup maple syrup
1/2 cup water
Set aside.
Saute in olive oil:
4 stalks celery, chopped
4 cloves garlic, minced
1 onion, chopped
3 tsp pumpkin pie spice
Add cooked vegetables to pumpkin sauce and set aside.
Assemble the Lasagna:
Spread a thin layer of sauce in bottom of greased pan
Cover with a layer of uncooked lasagna noodles – do not overlap
Then a layer of cottage cheese
Then a layer of thinly sliced uncooked zucchini and/or mushrooms
Then half the remaining sauce
Then a layer of uncooked lasagna noodles
Then a layer of grated mozzarella cheese
Then a layer of chopped cooked chicken
Then a layer of fresh spinach
Then cover with the remaining pumpkin sauce
Cover with parchment and foil and bake 1 hour at 350 degrees
Uncover and add generous layer of grated mozzarella and bake for another 1/2 hour. Let sit 15 – 20 minutes before serving.
*generous layers of sauce ensure that uncooked lasagna noodles soften during the baking time.
Speedy Suzanne
1 onion chopped
1 green pepper chopped
1 can chickpeas drained & rinsed
1 can black beans drained & rinsed
1 jar salsa
Combine and cook in crockpot or in a covered casserole dish in the oven until onion & pepper is soft and flavours are combined. **This is a super easy recipe to double up on. If you are in a rush then you can even skip the onion and green pepper. A nice chunky salsa has those vegetables anyway! Top with sour cream, crumbled tortilla chips and chopped cilantro.
*Optional – serve on a bed of rice.
Hamburger Soup
Brown 1 pound ground beef (with 1 tsp each of basil, chili powder and garlic)
In soup pot combine:
1 can diced tomatoes
8 cups water
1 cup each chopped celery and carrots
2 beef boullion cubes
3/4 cup uncooked barley
1 tbsp basil
1 tbsp chili powder
1 tbsp garlic powder
1/2 tsp salt
1/3 cup ketchup
Bring to a boil and simmer for approx. 45 minutes, or until barley is soft. Add 3 cups frozen vegetables and browned ground beef. Continue to simmer until vegetables are cooked.
Pumpkin Spice Breakfast Quinoa
2 cups milk (dairy, almond or coconut)
2 cups water
2 cups uncooked quinoa, rinsed and drained
1/2 cup canned pumpkin puree
1/2 cup maple syrup
2 tsp vanilla
4 tsp pumpkin pie spice
pinch of salt
Directions: Bring milk and water to a boil in a small to medium sized saucepan. Add quinoa, cover, reduce heat to simmer, and let cook 15 minutes. Remove from heat and let stand 5 minutes. Uncover and fluff with a fork, then stir in the pumpkin, maple syrup, vanilla, pumpkin pie spice, and salt. Taste and adjust any amounts to your liking (i.e. add more sweetness or spices). Suggested toppings: nuts, seeds, blueberries, coconut *this recipe doubles easily (and then you can use the entire can of pumpkin). Freeze in individual portions. Thaw and eat warm or cold for breakfast.