Time for this month's message from Mama Bear.
Since the topic is Christmas memories, I decided to go way back.  I pulled this photo from the archives – here's  little Donna back in about 1967.  Even then I liked the idea of Christmas entertaining.  My neighbour Sandy Jack was holding my baby as I prepared some treats to share.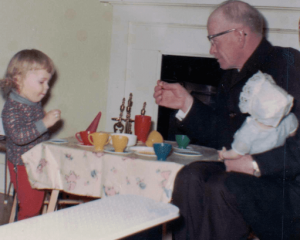 This next memory is a little more recent, but still way back.  Some research has confirmed that it was in 1998 to be exact, that Papa Bear and I decided that we really wanted to slow Christmas down.
Can some of you identify?  Children wake up super early on Christmas morning, tear through the presents and by 6 a.m. everything is opened, the living room is a disaster, and you are left wondering……..how can it possibly be over already?  You spent hours shopping, wrapping, conspiring over the perfect presents to delight your children.  Maybe you could hardly sleep on Christmas Eve because you were so excited to see their reactions to the gifts of their dreams.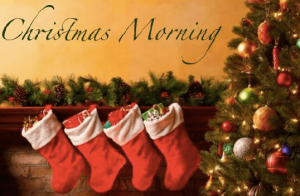 I wondered what we could possibly do to slow things down and savour the experience.  I came up with what became a Schmidt Family Tradition.  The "Christmas Morning Game".
Here is a shot (caught only by chance) of our first game.  The photo really was of mom and I sitting on the couch and it was just coincidence that I chronicled the "game" in the background.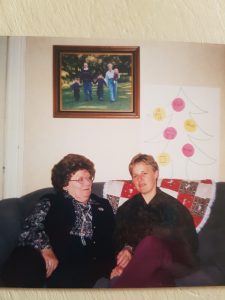 I created this simple tree out of bristol board and construction paper.  Each ornament had a word or clue on it to describe a present.  When the children came downstairs on Christmas morning (ages 5, 8 and 11) one of them was selected to choose an ornament.  Papa and I knew what each one stood for so we then proceeded to leave the room and bring in the present for each child, or take them to a spot in the house where the meaning behind the ornament clue would unfold.
It is a real test of my eyesight and my memory to look at this photo now – 19 years later and remember what each ornament stood for.  I'll try 🙂
One said – U do It – we sat around the kitchen table and the gift was either an individual craft item or something that we could work on as a family.  We actually spent some time doing it.
One said – Quiet – I'm guessing this was probably books for each person – a regular staple of Christmas giving.
One said – Noise – as I remember this had something to do with musical instruments – maybe accessories for drums, guitar and piano
One said Flat – yea, I have no idea.  I'm sure it was something super creative!
One was a Drawing of a manger – this is the symbol of the Christmas Story.  It was always worked into our Christmas Morning Game.  We would pause.  Spend some time either reading from the Bible or a new story book and acknowledging the reason why we were celebrating.
One was a Box with dots on it – yea, and again…..I have no idea!  It was a brilliant idea back in 1998 🙂
By the time we got through the 6 ornaments and paused part way through for a yummy breakfast at least a couple of hours had gone by.    Ahh…….we had slowed things down.
I have eluded to the fact that my aging brain is having a bit of trouble remembering all the details of how we got going with the "Christmas Morning Game".  I finally clued in at Christmas 1999 that I should start keeping track of what we did.  I created this simple binder and started recording each year.  When it was feasible I even tucked in some of the games.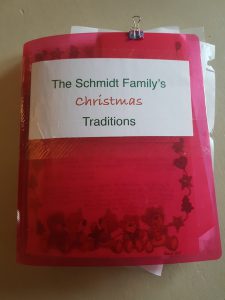 In 1999 the words on the snowman were clues written backwards.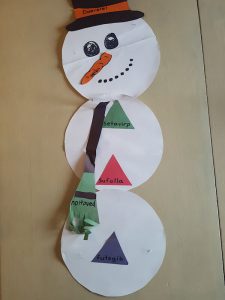 In 2001 we also started to draw names.  Then we would write a letter to the person whose name we got, telling them why we loved them.  These letters are so touching to look back on now (and funny too).  Glad I saved them in the Traditions Binder.
Christmas 2003 Papa and I knocked it out of the ballpark – well mainly Papa.  The theme was Survivor One – The Pirate Challenge.  About this time our boys were into Pirate Lego, thus the theme.  It was a series of treasure hunts that the kids needed to solve to find each present.  For the finale Papa had drawn an awesome map of the entire house and everyone found a present at the end.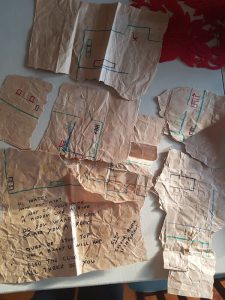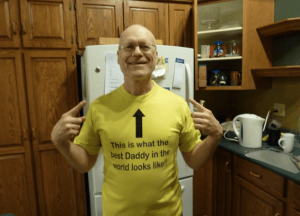 Christmas 2005 the theme was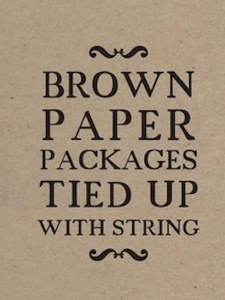 Everyone got their favourites and we took turns opening them one at a time.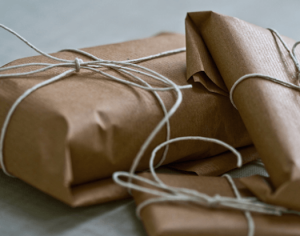 The passing of time of course changed things and college and jobs meant that we weren't necessarily together on Dec 25th.  Here is an invitation we sent out to our kids in December of 2009.  The theme that years was a salute to Scrubs – a show we all loved!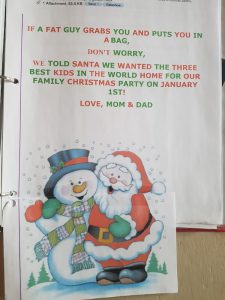 The traditions change and evolve, but the key things remain the same.  Family, fun (and of course food)!
As a family gift for Christmas last year I compiled photos from all through the years and created a photo book to give to each of the kids.
In the next year or two I want to create volume 2 and include copies of the games, letters etc. from the Traditions Binder.  That seems like a big job, so I'll think on it for a while yet, but I'm sure that making it and giving it, will become a Christmas memory too.
May you enjoy old traditions this year, but also make some new memories while you are at it.
From Mama Bear's heart to you and your family,  Merry Christmas!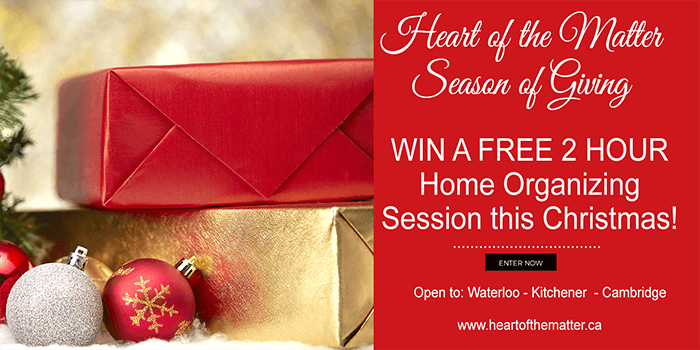 This week we add gift #3 to our Season of Giving!
WOW!!
Gift #1 – 10% of invoice total given to charity on every job booked
Gift #2 – 15% off  our "Matter of Calm" organizing package – hit the ground running for January 2018 decluttering!
A winner will be chosen, at random, on Friday, December 22nd.
*This contest is open to Waterloo Region residents only.
Christmas Gift Certificates available from Heart of the Matter for YOU (tell your family!) or for a friend or family member.  You can opt for 'hands on' organizing assistance or a DIY consultation.   Check out our package options.