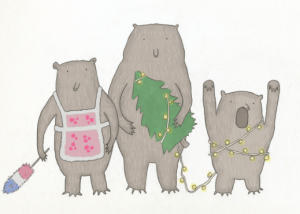 This is a tip to set you up for success NEXT Christmas . . . but it is something you need to think about NOW in preparation!
As you put away your Christmas decorating items be sure to remember to create a "November Box" if you haven't already.
These are the items that you will want to access  first and easily next Christmas.  This box should be clearly marked and could include:
Christmas music
cards and paper products
a couple of favourite decorations
your advent calendar
Basically, anything that your family will want to access first before getting out the rest of the boxes.
REMEMBER to pack your November box last . . . it needs to be your most accessible Christmas bin!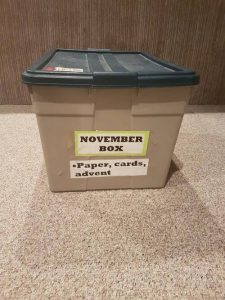 After Christmas you might want to consider taking a few notes or photos of the way you decorated certain areas in your home.  It will make it easy to duplicate next year!  This is something I do.  I write on a paper how I decorate a certain area (i.e. my porch) then I pack that note away with the decorations in the bin each year.  When I open the bin to decorate I don't even have to think about it (unless I choose to switch things up).
Record in your calendar for next fall what you might need to buy, such as wrapping paper, napkins, cards etc.  On the flip side, if you buy any of those items on sale this year, then make a note NOT to buy them early in the season next year.
As you tidy up after Christmas, it is the perfect time to go through your decorations.  Keep only what you use and enjoy
Label bins clearly as to what they contain.  I like to label by room/area, so that everything I need to use  for decorating that spot is stored together.   For example, I have fun transforming my 'every day' bathroom into a Christmas bathroom.  I have a large bin labelled bathroom.  I store everything in there for the transformation.  Over the Christmas season I use the same bin to pack away all my 'every day' items.
If you have sentimental decorations that you want to keep, but don't put out each year, then pack them separately and label the bin.  This way you will have access to them if you need them, but won't have to root through them each year when you are decorating.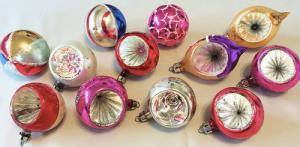 If you haven't already, I would encourage you to take the time to write down some of your special family Christmas traditions.   As you come across neat ideas during the year, you can record them in your book.  This book could become a real treasure of memories and stories that can be passed down for many generations to come.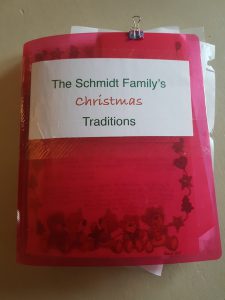 Start a new family tradition and turn "undecorating" into a party.  If everyone pitches in, it can take the drudgery out of what needs to be done.
Have a Christmas de-brief as a family.  What worked?   What didn't?  What are some new ideas you heard about that you would like to try next year?  Make notes in your calendar and a reminder to review them together next fall.