If you are a clutter collector, or even a bit of a hoarder, there is a lot of time wasted just taking care of your "stuff".  Imagine if you could recoup some or a lot of that time, by disconnecting your heart from your things, so you can connect more deeply with family, friends and times that matter.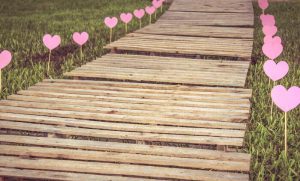 This week we welcome our guest blogger Diana Murdoch.  I met Diana back in the early years of our business when Rhonda and I connected with her and her daughters Heidi and Melinda. 
Diana says:
Kids can pick up the clutter habit too, and have a hard time getting rid of every possession.  My girls loved their closet full of pretty, frilly, lacy, sparkly clothes. Many were hand-me-downs and just too good to toss out.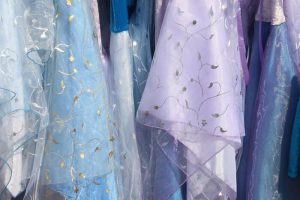 It became nearly impossible to get their rooms organized so they could invite friends for sleepovers, or do homework or read in their own space. The contents of the closet had spread to the floor.  I had to come up with a creative way to help them separate themselves from their "stuff."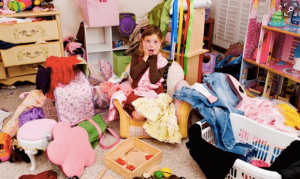 Here is our story of  "Too many clothes and the store at Oma's house".
One day ………
When the girls were little, I realized that we had a big problem. So many hand-me-downs, and so many nice new clothes from grandparents, there was just way too much. The fact is, everything needs to fit in drawers. If there is more, you NEED to part with some. One day, when we had all day to do this, we took all of Heidi and Melinda's clothes to Oma's house.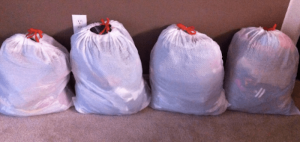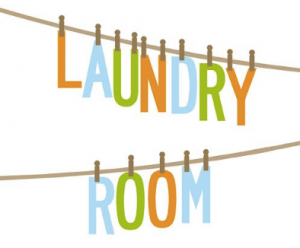 We spent the day in her laundry room, first washing all the clothes, then as they came out of the dryer, we set up Stores. We used two big tables, the ironing board and a few sheets of plywood. Everything was neatly folded or hung, and sorted by size, just like a real store. When the laundry was ALL done, each girl picked her 5 favourite  tops, 5 pants, 5 long sleeve shirts, 5 shorts, 5 sweaters. Five Sunday Dresses. Five of something from every department, including undies. But not swim suits. You only need one of those!
They happily took their "shopping" home and we donated the rest to Value Village before getting home to put the "new" clothes neatly into drawers.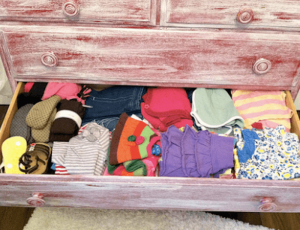 We went to someone else's house for the laundry part of our project to separate ourselves from our house, and the temptation to quit, to get distracted with something else more fun, or keep too much stuff.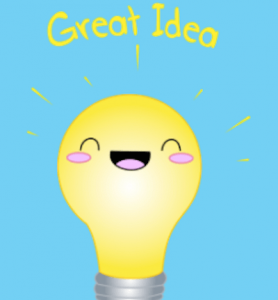 Any time you own too much "stuff", you have to take the time to care for it. Whether it's washing clothes or organizing toys, tools, kitchen gadgets, knick knacks, collections, or books. If you are spending a lot of time with your "stuff", you have less time to spend with your friends, family, the Lord, or helping others. Make sure that caring for your "stuff" is not limiting the time you have with more important people. If it is, get rid of as much as you can. Live lean. You only live once. 
If you missed our blog last week, you'll want to check it out.  Teaching children to clean their room – easy as 1 2 3 4
Diana Schreiber Murdoch has been writing since childhood. Stories, poems, songs and notes with positive messages have flowed from her pen all her life. However, she didn't consider herself a writer until her story was published in an anthology, "Chocolate and Diamonds for the Woman's Soul." Now Diana contributes to blogs, writes articles for online magazines, entertains on her own facebook blog "Unconventional Wisdom" and enjoys writing inspirational notes, letters and posts to share God's love from the abundance of her life raising 3 children on a shoestring budget. You can contact Diana at melody.murdoch@gmail.com