They Left Us Everything – A book review
A Memoir
By Plum Johnson
Toronto: Penguin Canada, 2014
Our team member Carol shares this book review. Sounds like a good read 🙂 Heart of the Matter/Senior's Move has walked this journey with many families. Does it strike a cord for you?
In this beautifully written memoir, Plum Johnson explores memory, her past, and her complicated relationship with her recently deceased mother as she begins the enormous task of readying her childhood home for sale. The 23-room home which she shared with her parents and four brothers is now empty of people, but brimming with memories, and all the objects that stir up those memories.

The physical space itself is emotionally challenging for the author. Her feelings are torn between the early, happy childhood memories, and the more recent, difficult ones. Her father develops Alzheimer's and dies, and she is left to care for her elderly mother for many years before mom, too, dies.

Although it is a daunting task, in many ways she is quite lucky. She has the time and the resources to work on the project slowly. It takes 16 months to sort out all the possessions, divide them up among the siblings, get appraisals for other items, and ready the house for sale. Along the way, she has help from many friends as well as her siblings and children. When she struggles on the project, a friend gives her some advice: "Some things you can't do in a collective," she says. "We all have a secret life−something we work through creatively, through art−we don't have to share it."

What is truly remarkable is what the author learns about herself through the process. Most poignant are the letters she discovers, and reads. Letters her parents wrote each other during the war; letters her mother and grandmother wrote each other; even a letter her mother had written to her, but never given her. These letters become the touchstone for making sense of her mother and their relationship.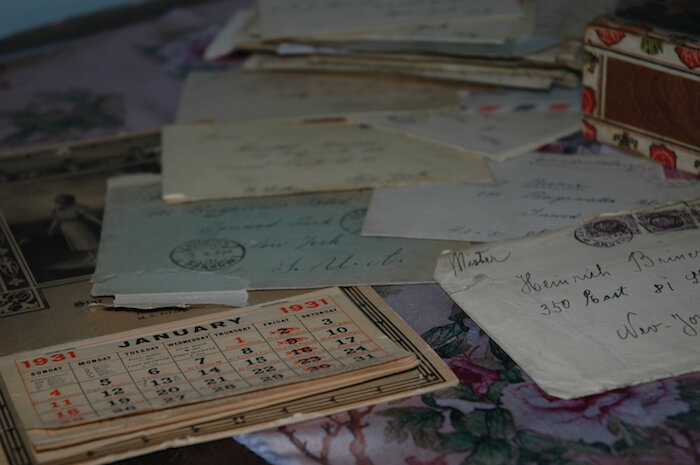 It is a beautiful story of family, and loss, and redemption.
Carol found these quotes from the book to be particularly meaningful:

"Who were our parents? They are in everything we see around us, everything we touch, but did we really know them? Can we get to know them better by sifting through what they left behind, like forensic archaeologists? What does it all mean?"

"I'm recognizing that this house is only the shell my mother and father left behind, but it represents their marriage, the life they built together, their frugality, and their generosity."

"Writing letters was one of Mum's greatest talents, and here is the record of her life. At the end of our lives, we become only memories. If we're lucky, someone is passing those down."
If you would benefit from some side by side help and encouragement for your challenging project, Heart of the Matter would love to be your success partners. Mention this blog and get 15% off your project!
If you've enjoyed this content, please consider forwarding it on to a friend or giving us a review on google. Caring is sharing, and we sincerely appreciate anytime you are able to share us with those you care about!