The significance of this topic took me by surprise as I sat down to write this morning, read on to find out why!
At one time or another we may all have heard about the science experiment of putting a frog in a pot of cold water. The pot is set on the stove and the burner is turned on. As the water gradually heats up, although the frog has the ability to jump out, it chooses to remain in the pot. The result – it slowly boils to death. The frog does not notice the slight increases in temperature until it is too late to take action.
Author Kathy Peel in her book Be Your Best – The Family Manager's Guide to Personal Success says that many of us are like this frog. We say our lives are uncomfortable, maybe even out of control, but we don't move. We choose to survive rather than thrive. We tolerate discomfort and chaos in our lives because it's easier to blame external circumstances than to accept the responsibility to change.
"I'll make time to exercise when the kids are older". Boiled Frog
"I'll take a step toward my dreams when my schedule slows down". Boiled Frog
"I'll deal with the unresolved conflict with my husband when things settle down at work." Boiled Frog
"I'll get to decluttering my house when (you fill in the blank)". Boiled Frog
It is easy to focus on the negatives and adopt a "poor me" mentality, but what we must do is choose to focus on our assets – what we do have and what we can do.
As I sit to write this and reflect on the book it is based on I realize that this message is for me. Wow, is it ever for me. It isn't about getting another blog queued up that someone else might read and benefit from, but it is a challenge for me. Since last October I have had a really sore knee. It started quite acutely and for no apparent reason. I have tried a long list of different things to help…..I mean a really long list. For the purpose of challenging myself, and maybe some of you, I'm going to actually think back over the list (lots of praying, medical doctor, physio, chiropractor (2 different ones), massage, osteopath, naturopath, acupuncture, various topical creams and oral supplements, all while following a strict anti-inflammatory diet the last 3 months) Wow, that is quite a list when I see it all spelled out in one place?!?
The long and the short is that during the last 3 months it has been painful to walk. My exercise has dwindled. My fear of the ice and this crazy 2019 weather hasn't helped either. I know that I am losing strength not just in my legs, but my upper body too because of inactivity. Boiled Frog!
If I follow the advice above and get over my poor me mentality and choose to focus on my assets, then there is lots I can do.
The stationary bike that we have in the basement (which is now sitting amongst pulled up carpet and underlay from our recent spring run-in – poor me – boiled frog) is accessible and awaiting my butt on the seat each day.  
I have no pain in my upper body and I do have my resistance bands collecting dust around here somewhere.  
It is 9 a.m. Saturday morning March 16, 2019 as I sit in my jammies and write this blog. I did not set out this morning prepared to receive a profound revelation for myself.
Why though should I be surprised? That is how God works. I have been searching and pleading with God to bring healing and to reveal what my part is in the process. There is a time and a season for everything under heaven, and God is not surprised at where I am right now……right this minute. For now, my knee is painful. I pray for healing. However, today God is asking me not to be a boiled frog, but rather to FROG – Fully Rely on God!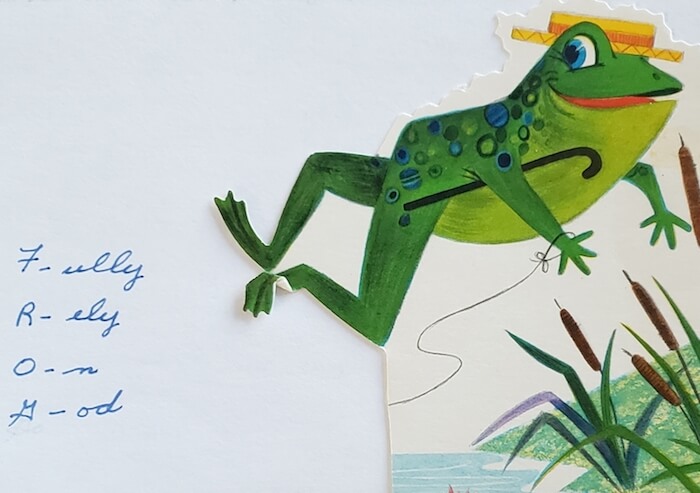 There-in is where my strength comes from. Thank you Jesus that I don't have to do this alone. You are walking with me every step of the way. I love when you show up and speak to me in such personal ways. Right here, this Saturday morning, in the midst of my work you give me encouragement for the next steps of my journey.
My word for 2019 is DELIBERATE. Reality check this morning (and thank you God for the reminder).
Action steps moving forward
Set a reminder in my phone for each evening at 6:30 to get my behind on the seat of my stationary bike (if I haven't already done it earlier in the day) – I'll remember to take my phone downstairs with me and use my stitcher app to listen to a podcast – one of my favourites is The Next Right Thing by Emily P. Freeman.  Such good stuff, and oh her voice is delightful!
I have input "beginner upper body resistance band workouts" into my youtube search bar and will checkout the options this afternoon to find something realistic for where I'm at right now.  Start right here, right now and take baby steps forward.
How about you? Boiled frog or FROG – Fully Rely on God!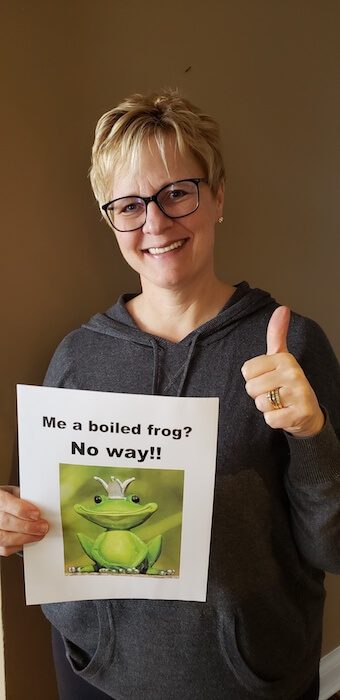 If you've enjoyed this content, please consider forwarding it on to a friend.
Follow us on: Facebook | Twitter | Pinterest | Instagram | Youtube |
If you are determined to not be a boiled frog, we find that it helps to speak your commitment out loud. Tell a friend, or tell me!! I'd LOVE to hear from you.
It takes 2 to tango. Email us and tell us what you hope to accomplish. Let's connect!