In celebration of our 15 year anniversary of Heart of the Matter, we felt that this was the perfect time to share about all the things we are thankful for in this business. We have a list MUCH longer than 15 but these are the things that have inspired me and that I am grateful for each and every day.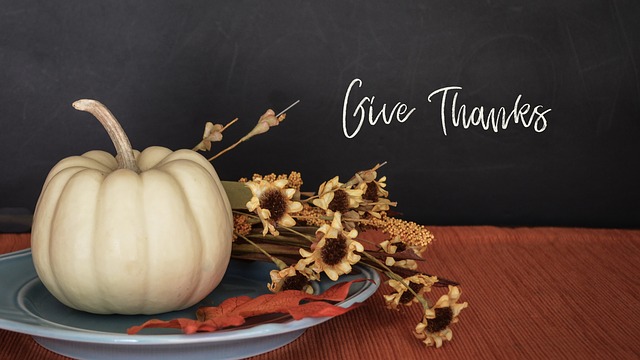 1) YOU! – We are so thankful for our subscribers, our followers, our supporters! We are thankful that you have invited us into your home on a regular basis. We love your comments, your questions, your feedback and your stories. If it wouldn't be for you, I wouldn't have a reason to share my thoughts and write blogs like this. You are a family to us and we love how you see our emails as something that brings value to your life. We try to bring valuable content each week and we thank you for each and every "click" you make, to welcome us in.
2) Our Clients – In 15 years we have met so many individuals and families. We have been invited into so many homes and offices. "Organizing is a vehicle into people's lives" is the phrase we use all the time. In many instances, our clients have become friends and we treasure each new person we meet. We pray that God will lead us to the people that He wants us to meet so we take each interaction seriously knowing that there is a reason for this new forged relationship. Again, Heart of the Matter wouldn't be in existence if there weren't people out there that believe we can make a difference in their lives. We are so honoured to journey with so many precious people. I am so humbly grateful.
3) Our Team – Donna and I have been blessed to have some of the most wonderful ladies on this planet on our Heart of the Matter team. God hand-picks ladies who have servant hearts and love to help others. They are genuine and they live each day in a consistent manner whether or not they are working or are at home. Again, we tell our clients that just because we are professional organizers doesn't mean we have perfect houses! We are human too. 🙂 These ladies share their gift of organizing and attention to detail every day. Their passion for life and their love for others is evident. Both past team members and current team members – we have been blessed with the best!! This is a photo that we snapped at our staff reunion in 2018.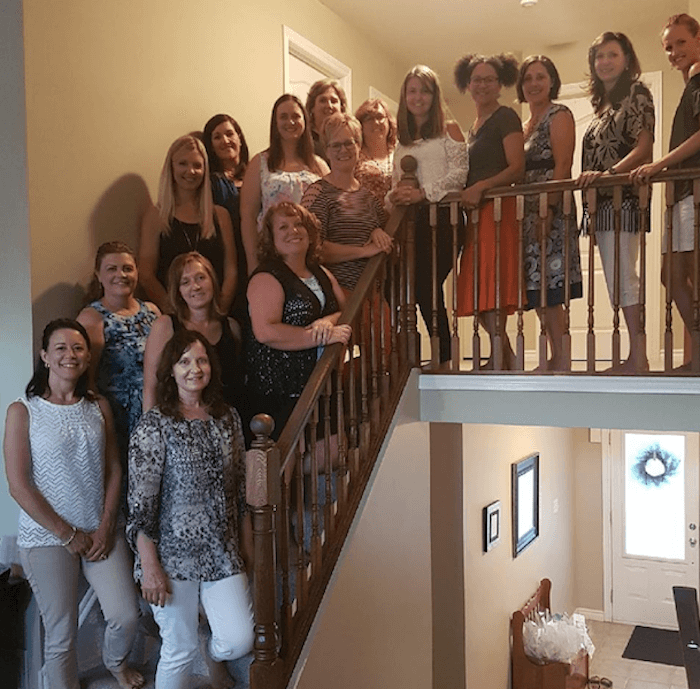 4) Our Prayer Support Team – we call them our PST! When we started our business 15 years ago we formed a group of ladies that would come together with us 3-4 times a year to pray with and for our business. This team has changed and evolved over 15 years but we are grateful for everyone who has been a part of this special family. Obviously respecting confidentiality, they pray for our clients and for our business. They take time out of their busy schedules to meet with us and get updates. These ladies support us in so many ways and we are so grateful for each and every one of them.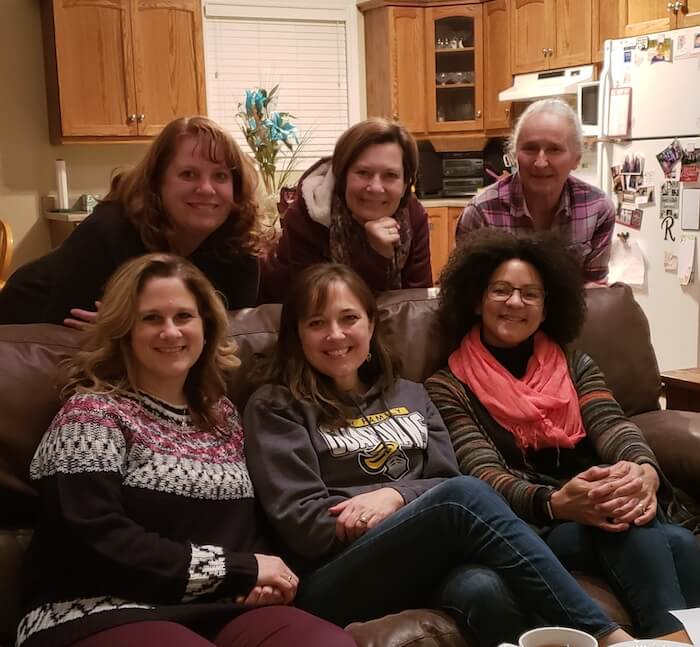 5) Our Bookkeeper – Narcisse. Narcisse diligently completes our business books. When we have a question – he always has an answer. Most days, he has an immediate answer by text or email and is so prompt in finding all the information that we need. We are so grateful that we don't have to worry about this area of our business and he completes everything with great detail. He always has a "smile" for us with every communication. Thank you so much Narcisse.
6) Our Marketing coach – Vagarro. We have been working with Vagarro for several years now and he has been a wealth of information for us. He has been our teacher of everything "Social Media". He is a skilled technician of his trade and he has taught us so much. He has created our website and helps us to keep it fresh and up to date. We are grateful that he has created a marketing plan for us because you know how much Donna and Rhonda like plans 🙂
7) Our Financial Coach – Bryan. We have been working with Bryan for several years to give us some financial coaching for our business. He is able to explain our financial statements and what it all means. Just because I come from an accountant's family does not mean that I understand all those spreadsheets! He has also helped us to do some succession planning and looking ahead into the future. We are "planners" by nature so it makes sense for us to prepare for what is yet to come.
8) Our Corporate accountant – Paul. When we incorporated in 2015, we needed to find ourselves a corporate accountant. We are grateful for Paul and the advice that he has given us for the last 5 years. He sits down with us and gives us ideas for improvement. It is great to have an accountant who is available to meet with us one-on-one to answer any questions we have and to inspire us for the upcoming year.
9) Our Organizing Colleagues. We have been so grateful for our colleagues. A lot of them have become great friends as we have connected through our association of Professional Organizers in Canada. Our association has brought together "like minded" people to support and encourage each other in our organizing businesses. Technically they are competition but we don't see each other in this light . . . we support each other and care for each other. If they succeed, we all succeed. We have gained so much wisdom from this special group of people. Thank you POC friends!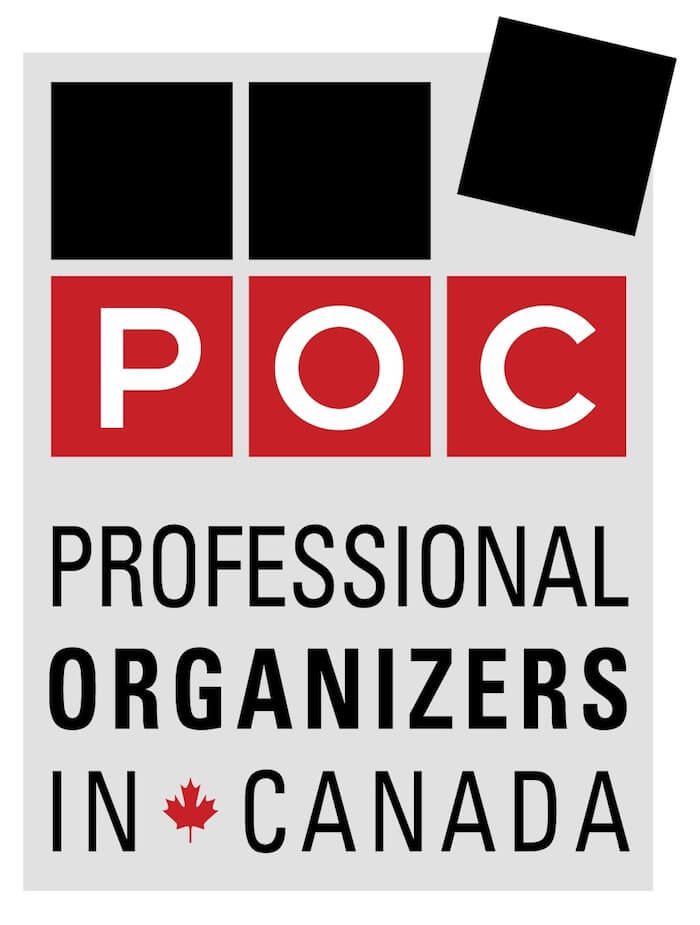 10) Our Movers – CMS – Commercial Moving Services Inc. We couldn't run our Senior's Move business without our incredible movers. We have heard our share of stories of moves gone wrong so we feel extra blessed to have a dependable team on every move. They are like-minded as they care for people, respect belongings and work hard. We are grateful that they are a part of our team and we come together to get the job done. Thank you Brian and all of your amazing team members for showing up everyday with a smile!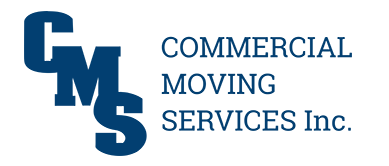 11) Lindsay Randall – Timewell Online Auctions. Lindsay has become an integral part of the extended HOM team. We have the privilege of doing lots of presentations with her. We often have a booth beside Timewell at the trade shows we attend. Lindsay has become a friend and ally. She provides an amazing service that Donna used with her mom and we have been recommending her company to our clients ever since. A company with integrity and always ready to help however they can.
12) Our Local Thrift Stores – MCC New Hamburg Thrift Centre, MCC Thrift on Kent and Mission Thrift are the 3 donation centres that we use. Again, we wouldn't be able to provide the service that we do if we didn't have a place to happily drop off our donations. Our clients are more ready to part with their treasures if they know they are going to a good cause. These thrift centres do a lot of amazing work around the world and we are happy to support them. Thank you to all of the Thrift staff in our community who greet us at their receiving doors with a smile!
13) Our Connections – We have a lot of wonderful connections with our local retirement homes, real estate agents, estate lawyers, Community Care Concepts, LHIN, doctor's offices, and the list goes on. We live in an amazing community and we are so grateful for the word of mouth referrals we receive from so many people.
14) Our Families – We are SO grateful that Heart of the Matter has turned into a family business over the last couple of years. Donna's daughter, Hayley, is our social media assistant. My daughters' also have roles: Kristyn – administrative assistant, Jayda – graphic design and Selena – paper manager. We are happy to provide them with part-time work within our business. Also we are grateful for Jason and Murray. Our husbands have supported us since day one when we decided that we wanted to start our own business. It was a risk, but they both stood behind us in this business adventure. We love you both and are so grateful for you.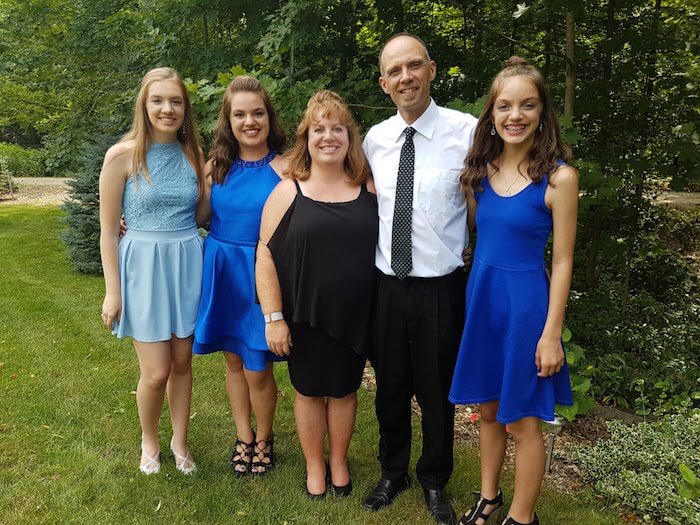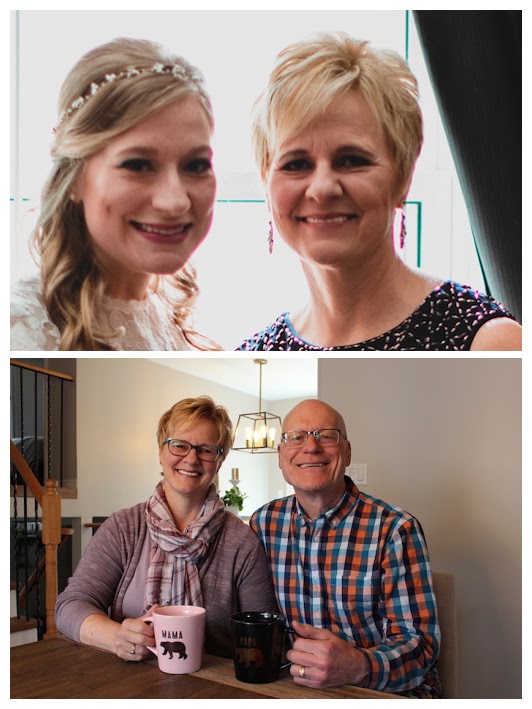 15) Our CEO – Last but not least, we are so thankful for God in our lives. He was the one who gave us the original inspiration to even start this business. He inspires us to get up every day and make a difference. He gives us daily creative ideas for us to grow. He is a part of the daily decisions we make that have kept us in business for these 15 years. He is the reason that we didn't give up when we were discouraged. God, we are forever grateful to You and we want to continue learning from You . . . our CEO.

What could possibly be a better way to end our year of celebration than to have a party?
All of the details are included on the invitation below. In at least one way (or maybe more!) YOU are included in the list above of all the things we are grateful for. Please let us thank you in person. Will you join us on November 2nd?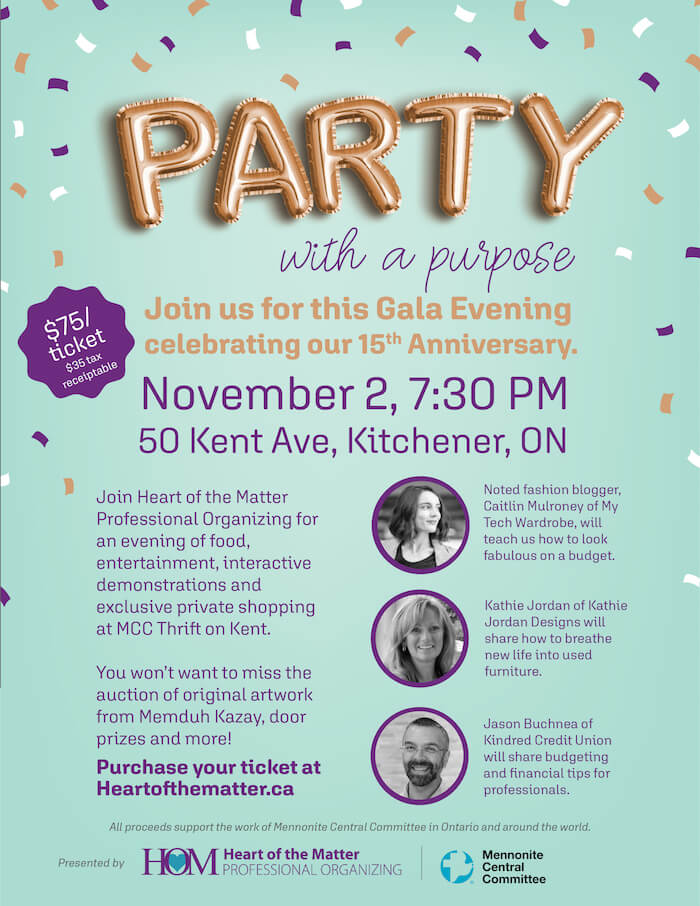 Purchase your tickets now!! – $35 of the ticket price is eligible for a tax receipt. Our beautiful party venue at 50 Kent Avenue Kitchener allows us to celebrate with 200 friends. Please help us pack the house on November 2nd 🙂 We can't wait to celebrate with you!!