All of us cope differently with mess, bickering children, and the everyday stressors of running a home and family.   No matter what your level of tolerance is, if you can do away with some of the stress, your home will be a better place for you and your family.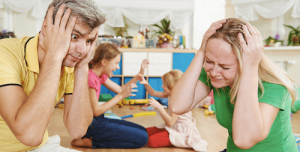 There is no time like the present to talk with your family members about how to relieve stress in your home.  The best way we know to do this is with a family meeting.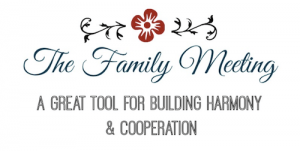 We would suggest that you conduct a family meeting and give everyone a chance to talk.  Mom and Dad it is especially important that you are vulnerable and speak from your heart.  You might be surprised at the results.
Here are 10 Tips for Successful Family Meetings from Kathy Peel's book The Family Manager's Everyday Survival Guide.  Feel free to adapt these to the ages of your children.  There are lots of great ideas!
A few days before, post the time for the meeting on the refrigerator or somewhere everyone will see it often.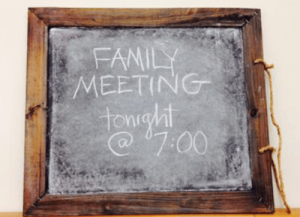 Unless you have an unusual family, don't expect them to jump for joy over the fact that you're having a family meeting.  Just make sure everyone knows attendance is not an option  Fix their favourite snack or dessert.  Good food has a way of fostering goodwill and cooperation.
Before the meeting, adults of the family discuss the agenda.  Keep it simple.  Begin the meeting with a statement of purpose and the agenda.  You might explain that you want your home to be less stressful, more organized and a good place to be for all of you.  You don't have to cover all the issues in one meeting. In fact, you can't.  If you try, your kids might still be sitting in their chairs, but they won't be participating. They'll be envisioning their future as Cinderella:  scrubbing floors and missing balls.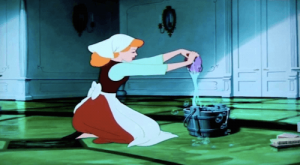 Appoint one person to record all the ideas everyone has on a large sheet of paper or erasable board.
Ask each family member what would make home a good place to be for him or her.  Ask them to be as specific as possible.  Note:  This may install fear in your own heart because you're afraid of their answers.  Fear not, because (a) they haven't thought about this so they don't have a long mental laundry list of what they'd like to change, and (b) they don't want this to be a long meeting.
At this brainstorming stage, no idea is out of bounds.  Trust me on this.  the requests your family make will be very doable.  And it's going to mean a lot to them that you're willing to be flexible on some of your standards and that you care about what they think makes home a better place.
Once everyone's had his or her say, review the list and decide which of the suggestions are most important and most doable.  What can you all agree on?  What are bottom-liners for Mom and Dad
Make plans to implement some of your ideas and strategies by discussing who will be responsible for each item.  Give people a chance to volunteer.  The teenager who wants a well-stocked refrigerator may be willing to make weekly trips to the grocery store to get it.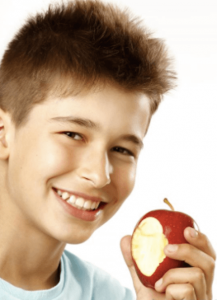 Make a brief list of what you decide and post it where it can remind everyone.  Remember, change doesn't happen overnight.  Reminders are good for everyone!
Use this time to affirm each member's efforts in fulfilling the mission of making home a place everyone can use and enjoy.  Thank each member for his/her specific contribution.
Schedule a follow-up meeting for a week or a month down the road.  Let everyone know that meeting will be for checking in to see how things are going.
~~~~~~~~~~~~~~~~~~~~~~~~~~~~~~~~~~~~~~~~~~~~~~~~~~~~~~~~~~~~~~~~~~~~~~~~~~~~
Inevitably, a big part of the conversation at family meetings will have to do with chores that need to be shared. I'd like to elaborate a little further on this:
Have the whole family work together to brainstorm a plan of action to accomplish what needs to be done.  It is important that everyone feels safe to share.
First of all, list all the chores that need to be accomplished on a daily basis, weekly basis and/or monthly basis.  Once the list has been completed, then ask family members to choose which tasks they would like to do.  You may need to assign some of the chores that are not chosen.  Make a checklist for each family member and put the list in a page protector.   This way a dry erase marker can be used to check each chore as it is accomplished.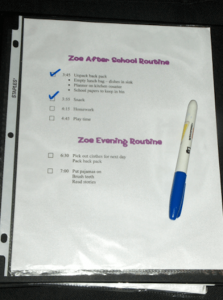 Discuss your expectations until everyone is clear on their responsibilities. At the meeting, be sure to brainstorm some consequences of not following through on the commitment.  Some families may need to go the next step and come up with contracts for each family member.  The key is to then be consistent in following up on your expectations.  It is the responsibility of the parents to make sure there is accountability. It can be difficult sometimes, but well worth the effort!
Our advice to people regarding the completion of chores has a lot to do with parenting skills.   Once the chores have been decided on and assigned, there needs to be discussion about consequences if chores aren't done.  Kids are great at coming up with these so be sure to get their input.  Consequences don't have to be the same for each child either.  Find out what works for each of your children.

Getting this far is often the point where the whole thing breaks down.  Parents come home and are tired, kids aren't doing what they are expected to do, but the consequences aren't enforced.  Parents toss in the towel and get frustrated and say the "system" doesn't work when really it is just a matter of using good parenting skills and sticking with it through the transition time until it becomes a habit for everyone.  It is a matter of sticking to it with strict consistency so that children learn that this is serious business and they are part of the family and are expected to contribute.  I can't tell you how many families where this is the main issue–not following through on consequences.  Consistency will pay off in the long haul!
If you know a family that would benefit from this idea of family meetings, please forward them our blog!
Today's Smile:
A police officer jumps into his squad car and calls the station.
"I have an interesting case here," he says. "A woman shot her husband for stepping on the floor she just mopped."
"Have you arrested her?" asks the sergeant.
"No, not yet. The floor's still wet."