Buy a chest of drawers…..and discover that this versatile piece of furniture can be an organizing gem.
Here are some possible uses:
Of course the traditional use for storing clothing in a bedroom.
But also consider it as……
a TV stand – the drawers can be used for remotes and storage of movies and gaming supplies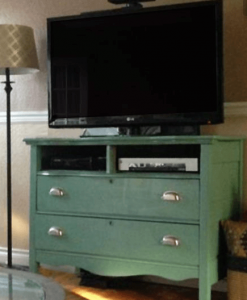 a nightstand – top it with a reading lamp and the drawers can store books, personal care items, notecards or clothing items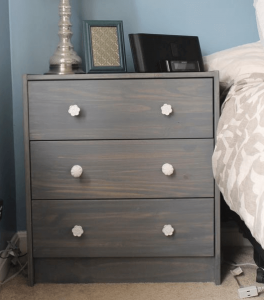 another great idea for use of a chest of drawers in a bedroom – add some IKEA spice racks to the side and it doubles as storage for books or magazines in addition to clothing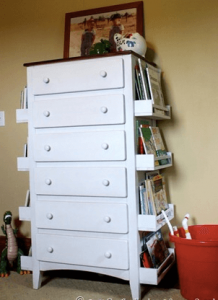 How about in the entry way as a place to store those last minute items needed as you walk out the door?  Assign each family member a drawer for their supplies or library books.  Top it with a basket for keys and hang a mirror or a bulletin board and you have a very functional area.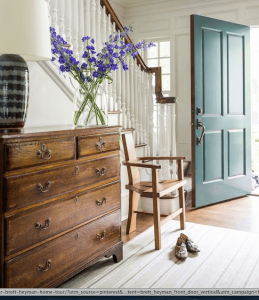 Use the chest to store sewing or craft supplies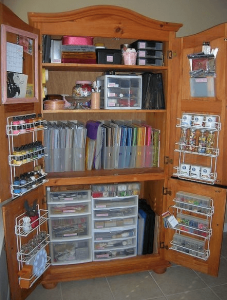 This piece of furniture makes a great sideboard in a dining room or breakfast nook and can hold napkins, placemats or serving pieces.
For many years I had a mini sized chest of drawers in my living room as an end table.  It was always helpful to have that extra storage space.
How about using the drawers of a chest to store your gift wrapping supplies.  One for flat wrap & tissue, one for gift bags and one for ribbons, scissors and tape.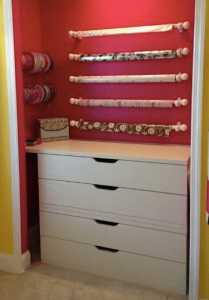 Save yourself some steps in the morning by creating a dressing vanity in a walk-in closet.  Simply move your chest right inside and stock it with the small items you may be keeping elsewhere.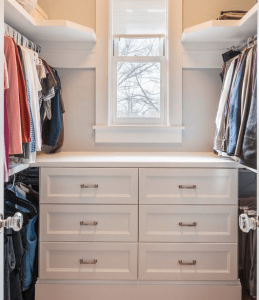 Even if you just have a regular closet and not a walk-in maybe it makes sense for you to put your chest of drawers right in the closet.  We often suggest this in a child's room where it isn't necessary to have a lot of space for hanging clothing and floor space in the bedroom is at a premium.
Put a "Chest to the Test"……you'll find that it passes with flying colours!
It is always great bang for your buck if the furniture pieces you purchase can do double duty.
A trunk for a coffee table – stores books, linens, blankets or even out-of-season clothes.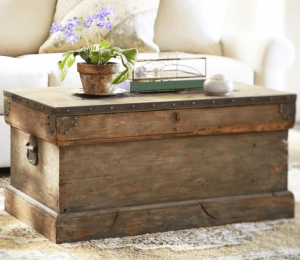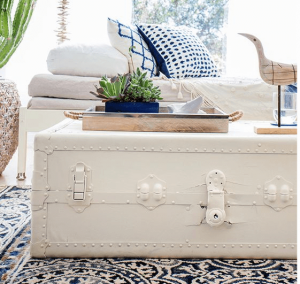 Turn an old TV Armoire into a craft storage space.  Or use the old armoire to store books AND toys.  Give an old piece new life!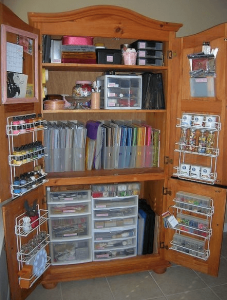 An old Armoire can also get new life as a mini power office!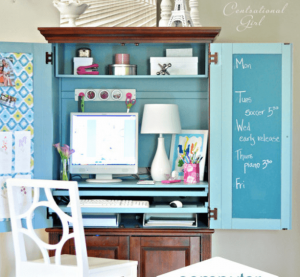 A full sized sofa, rather than a loveseat – seats more, sleeps an adult comfortably (without the need for a pull-out or cot)
In closing for today here are a few more creative DIY ideas!
The back of a headboard can be a wardrobe.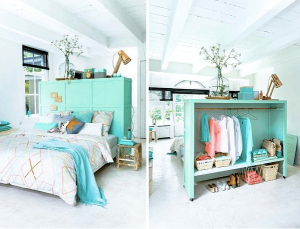 Love this one!  Lift top ottomans at the end the bed are a very unique place to tuck away your filing – an organizer's dream 🙂

And don't forget to Check us out on Pinterest for lots of great organizing ideas on a variety of topics!
FOOD FOR THOUGHT

To worry about tomorrow steals the joy from today!