Welcome to my guest blogger this week Certified Style Coach Christina Proctor from Wear Out There.

With spring just around the corner, now may be the perfect time to refresh your wardrobe.
Is your closet overflowing, yet you have nothing to wear?
Do you dress in the same outfits regularly?
Are you shopping frequently for new items?
If you answered yes to any or all of these questions, it's time for a closet clean out.

Take out and evaluate every piece of clothing in your closet. Consider each and every piece before putting it back in your wardrobe. As you're sorting, make 3 piles: "yes," "no," and "maybe." You may keep the "maybe" pile around – however, if you don't pull from it in 3 months, let it go.

Know your colour and fit. Keep the articles which flatter both your colouring and your physique as they are now. Clothing should help enhance your individual attributes.

Consider your lifestyle. Have you changed jobs? Are you practicing new activities? Similar to my move from student to working woman, you may no longer need items you used to rely on.

Maximize your space. Make use of the door and floor space you have available. Ikea has some wonderful ideas for storage solutions in small spaces. Organize your closet by clothing type, then colour for ease of use.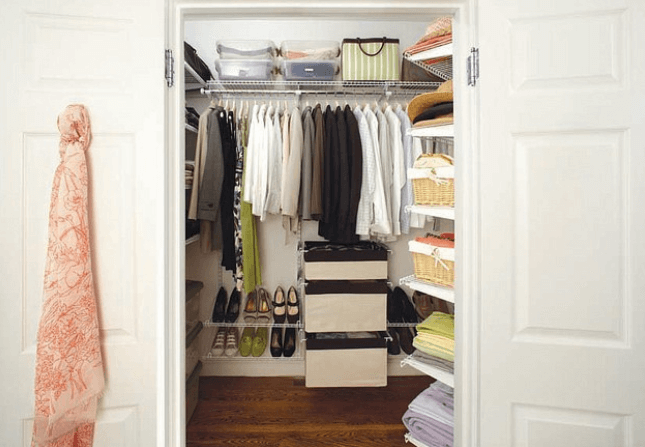 Rotate with the seasons. The articles you wear in the summer differ from those worn in the winter. Put away the clothing you won't wear this season in plastic containers. Not only will this free up space in your closet, twice a year, you will feel like you've gotten a whole new wardrobe.T
With a closet now organized to suit your needs, you must deal with your "no" pile. There are two options: sell items or donate items.
Locally, we have numerous consignment stores that accept quality pieces for resale including Luster & Oak, Plato's Closet, Gina's Closet and Carousel Clothing.
The general rules in consignment are that the pieces can't be older than 2 years, and they must be stylish. While each shop is unique, the standard consignment term is 90 days, with the seller receiving 40 per cent of the sale price.
"Purchasing your gown, dress or accessories at Gina's Closet is a win-win- situation. You will be purchasing a "previously loved" or new gown for a fantastic price, while also making a significant donation to a local cancer charity. Talk about money well spent!"– Marlene Bennett, Owner
If you choose to donate your articles, make it count by giving to a Mennonite Central Committee Thrift Store, Mission Thrift Store (formerly Bibles for Missions) or a charitable/non-profit organization, like the Working Centre or the KW Princess Project. The Working Centre accepts all types of clothing through Worth a Second Look, and formal dresses for the KW Princess Project can be dropped off at Waterloo Sports Medicine, Maurice's, and Capri Salon and Spa.
The process of cleaning your closet can be both overwhelming and cathartic. Depending on how frequently you tackle this challenge, it can also take some time. A less crowded closet makes it easier than ever to pull together new outfits and remix the items you already own. Your wardrobe should support your activities, goals, and beliefs, which change over time. Make it a point to review your wardrobe yearly, to ensure it reflects your needs.

Christina Proctor is a certified Style CoachTM with the International Association of Style Coaches. She works one-on-one with individuals to develop their personal style, dress according to their body shape, and lifestyle and hosts group workshops on style, image, and personal branding topics. Christina is all about helping her clients shop less, shop smarter, and live according to their own values. Christina was born and raised in Waterloo Region and is an avid supporter of shopping local. As a writer, she has contributed to numerous local publications including Grand Magazine, the Community Cord Newspaper, and Explore Waterloo Region. She lives in Elmira along with her partner Kevin and yellow lab Quix. To learn more about Christina and her business, Wear Out There, please visit: www.wearoutthere.ca.