Do you consider your bedroom closet a scary place in your house?
Does there seem to be a black hole in the deep dark corners?
Do you lift your hands to protect your head from falling debris every time you open it?
To properly organize your closet you must take EVERYTHING out! Don't just look inside and proudly announce, "Yes, I wear all that stuff!" Pull everything out and sort like things together, eg. Short sleeve shirts, slacks, etc.
Once you have everything sorted, THEN evaluate. Only keep the items that you like and that fit you at the present time. Don't keep an item just because you paid good money for it. Don't keep it because you are hoping to fit into it someday. The stat is we wear 20% of our clothes – 80% of the time!!!
Now it is time to evaluate your closet space. Look at it with a fresh eye!
Ask yourself some questions:
Could I add/remove shelves to make everything more accessible?

Should I raise or lower any bars?

 

Add another bar? A bar for dresses on one side and a double bar for shirts and pants on the other side?

Do I have effective lighting?

Do I have TOO many empty hangers taking up valuable space?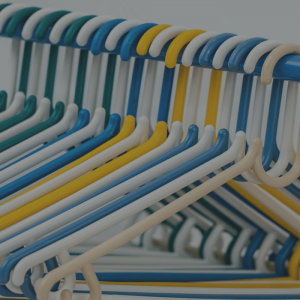 Do I need some specialty hangers for skirts or slacks?
Could I store my out of season clothes elsewhere?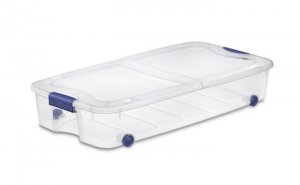 Is there any room to add hooks?  Either on the interior wall or over the door?
Set yourself up for success. Use hooks for those clothes that don't belong in the hamper because they aren't dirty but also don't belong in your drawer because they aren't clean — things like your work uniform, your pyjamas or your comfy at home clothes.
Don't forget to drop off your clothing donations at the Thrift Centre at the end of your organizing day! Live by the following rule . . . .
One item in . . . one item out!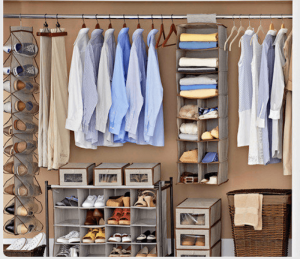 If you don't have the luxury of time to pull out ALL your clothes to sort and evaluate them . . . here is a quick and simple trick!  Take your hangers of clothes and turn them backwards on the clothing bar (so the hook of the hanger is facing out).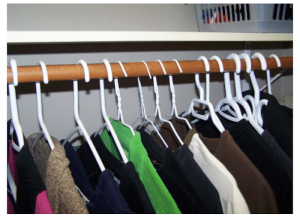 As you wear each article of clothing, when you hang it up again, hang the hanger the "proper" way.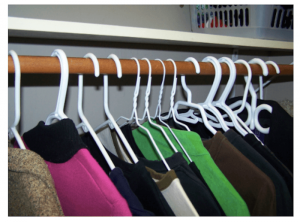 Then at the end of the season, anything that is still hanging backwards . . . you didn't wear!!!  This will let you know which clothes need to be donated to the Thrift Store!
If you are ready to say that you can't tackle your closets and storage areas on your own, then what are you waiting for?  Contact us today for your free no-obligation initial consultation.  We'll talk further about how we can come alongside you to meet your organizing goals.  If finances are an issue, ask us about our Interest Free Payment Plan!