I'm happy to welcome you to my kitchen today.  Just a few quick tips that work for me.  Perhaps they are things you might want to put into play in your own space.
Click here for ideas to organize your spice zone.
I love the idea to use clear plastic cutting mats in your fridge.  They are the perfect size to slide in on the shelf.  They are quick and easy to remove and run through the dishwasher.  A handy way to keep your fridge clean!
I have a deep cupboard above my fridge and have found a great way to make best use of the space.  I purchased racks at the hardware store that are intended to hold cookware lids or other kitchen items upright.
They allow me to store lots of items upright rather than flat.  This way I don't have to stack things and maintenance is a breeze.  I have homes for my pyrex pans, pie plates, muffin tins, fancy serving plates and cookie sheets. 
Think about boundaries when it comes to things like travel mugs and water bottles.  These two categories are often quick to grow.  Decide what is a reasonable number of each to have as you take into account how many people are in your family and how often you actually use these items.  Once you have a reasonable number assembled, then use a bin as a storage boundary. 
If you start accumulating more of either bottles or mugs then they won't fit in the designated boundary.  That means it is time to edit so you keep to your commitment of allotted storage space.  At my house I store travel mugs in a bin on the top shelf.  It is easy for me to catch the edge of the bin to bring it down when needed, and quick and easy to toss the items in once they have been rinsed after each use.
This is a photo of the cupboard above my sink.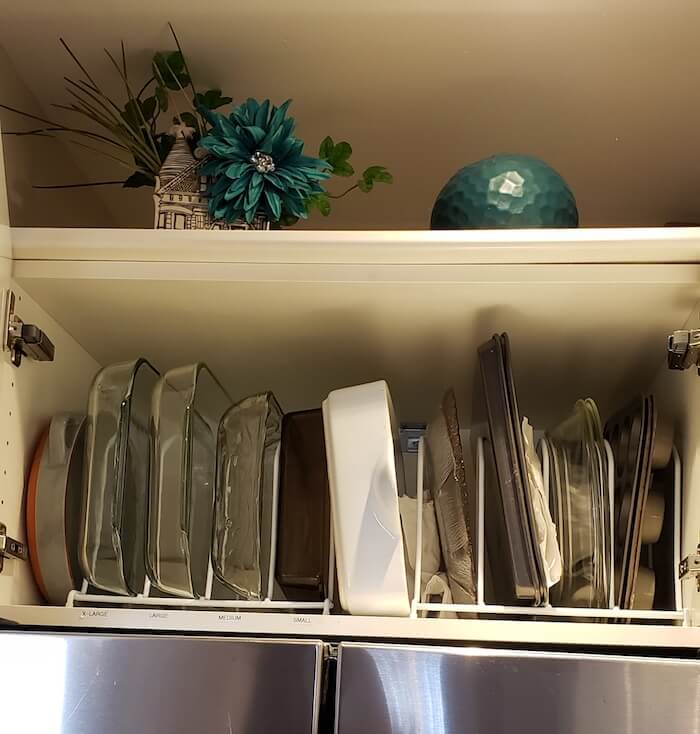 I have the shelves placed fairly close together.  The bottom 2 shelves are prime real estate and hold the dishes and glassware that we use daily.  The aqua coloured glasses are my favourite so I keep them handy, but take note that my extras (needed for visiting family) are up on the top shelf.  Still accessible but a little more out of the way.  I do have a spot on the middle shelf for my water bottles that I use daily.
I love these over the door towel bars.  I have 3 in my kitchen.
One holds windex and rag so it is handy for cleaning the front of my dishwasher daily.  It gets looking messy WAY to fast for my liking!!
Another holds my dish cloth and the spray bottle for my fruit and vegetable wash.
and the 3rd one (on the door of my lazy susan cupboard) is for my tea towel. 
I put a bit of stick tac under the metal hangers so that they don't slide around.
I'm guessing that lots of you have to deal with these corner cupboards in your kitchen.  Some will have a pull-out of some sort and some a lazy susan like I do. 
At Heart of the Matter we suggest that you don't store food items on the lazy susan unless absolutely necessary.  Packages and canned goods can easily fall off the back and then are difficult to retrieve.  Generally we suggest storing small applicances and items with a bit of bulk to them.  
I have my crock pot, hand mixer and popcorn popper on mine.  I make an exception to my "no food" rule and I do store my popcorn next to my popcorn popper and my oats next to my crockpot because I use them together so often.  This is working smarter not harder!  If you store the 2 things together at point of use they are easily accessible and save precious time assembling the necessary items from cupboards in different areas of the kitchen.
I also have my frying pans, strainers and graters on my lazy susan.
The things I use most often I store at the "home position"  so that they are super easy to access.  I also have my roll of paper towels laying in there so they are easy to lay my hands on.
Take note in the photo that I have even used the space underneath the bottom shelf for storage.  I put labels on the surface so that I wouldn't forget that I have my meat platter under one side and a vegetable tray under the other.
This is a photo of the area under my sink.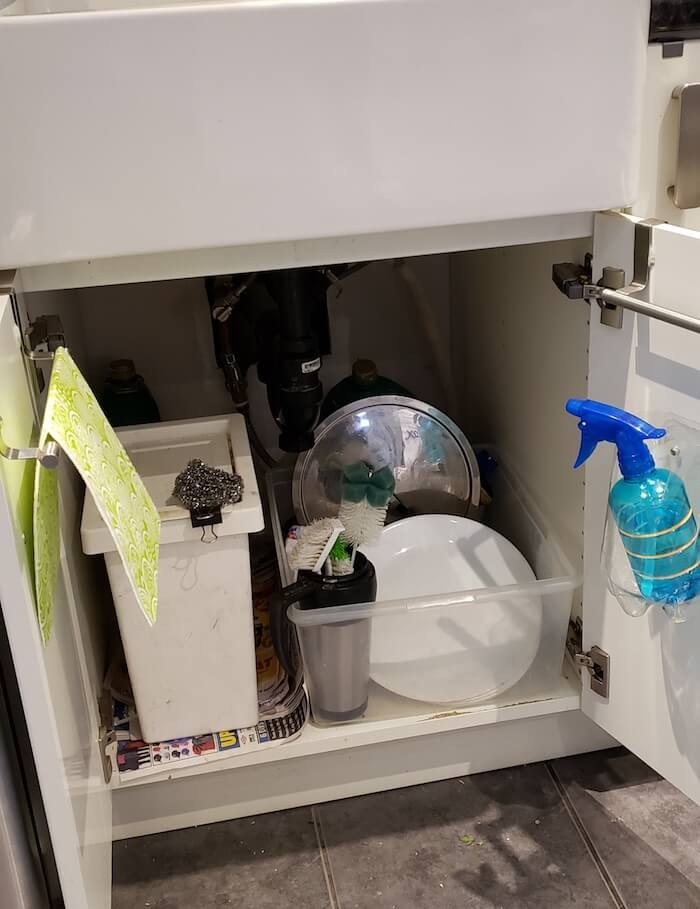 It is pretty small down there, but I did decide that I was willing to forfeit the space and have a plastic bin for dirty dishes.  This is for the times when the dishwasher is clean, but I don't have time to do a full unload.  It allows us to tuck dirty dishes out of sight and keep the counter and sink clear.  I have a travel mug with a handle hooked on the corner of the bin.  This keeps my various brushes together.   My compost bin is on the left hand side and the clip you see holds my pot scrubber in a quick and easy-to-reach spot.  Papa Bear attached the bottom half of a clear plastic pop bottle to hold my vinegar spray bottle.  I have an over-the-door towel bar on each door (held in place with a little stick tac underneath to prevent it from sliding).  Handy spot for my dish cloth!
This is just one corner of my kitchen.  We'll move our way around and chat about other tips on our next visit to Mama Bear's kitchen.  Thanks for stopping by 🙂
Check out Mama Bear in the Beverage Zone for more great kitchen tips!
Please jump into the 'reply' section below and share your best quick kitchen tip with our readers!  Or let me know what your problem spots are and we can address them in a future visit to the kitchen!
If you've enjoyed this content, please consider forwarding it on to a friend.
Follow us on:  Facebook | Twitter | Pinterest | Instagram | Youtube |