Becoming By Michelle Obama 2018 Crown Publishing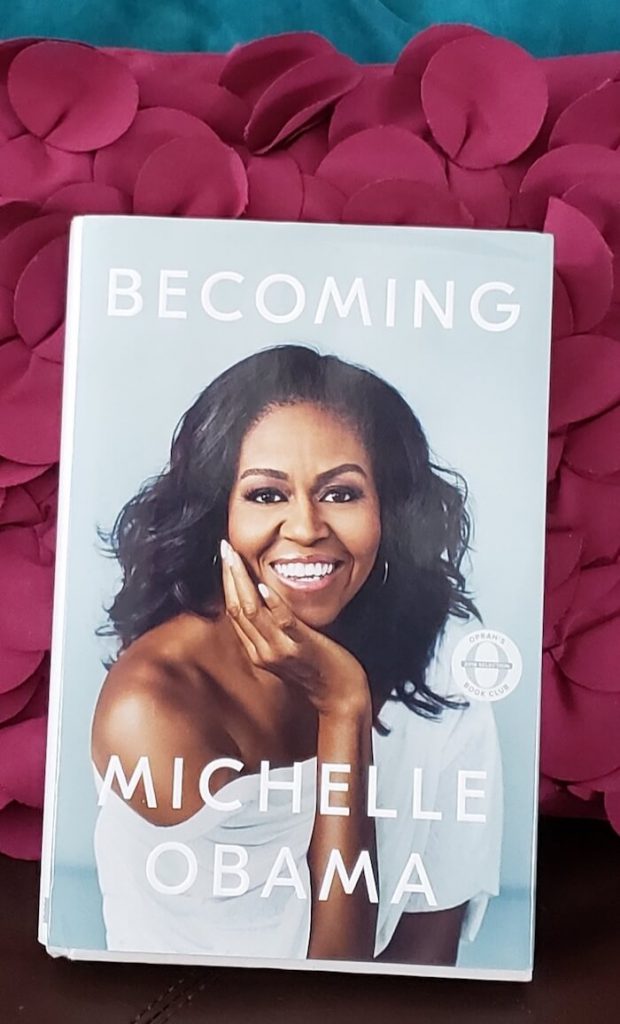 I thoroughly enjoyed this book! It was very inspiring. I admit I am a person who likes a "behind the scenes" peek into the lives of famous people, so this book fit the bill. It is divided into 3 sections.
Becoming Me
Becoming Us
Becoming More
I've heard it said that there are 3 sides to every story. My side, your side and then there's the truth. I guess it is probably true of this book as well. I'm not really a political person, so I didn't know much about the Obama presidency. Obviously, this is one side of the story.
5 Take-Away quotes from the read. All very inspiring and words that I am taking to heart.
"Your story is what you have, what you will always have. It is something to own."
"My job, I realized, was to be myself, to speak as myself. And so I did."
"There's power in allowing yourself to be known and heard, in owning your unique story, in using your authentic voice. And there's grace in being willing to know and hear others."
"Thinking of changing your workplace, changing the way the world thinks, that's big and it gets daunting and then you shrink from that….So start with what you can control. And that's you first."
"When they go low, we go high."
Trusting that you'll take some time for what matters most this summer. Personally, I love to read and the slightly more relaxed rhythms of summer allow that for me. How about you? Becoming is a great book you may want to add to your summer reading list. Watch for Roxanne's Picks coming up in a couple of week. Some more great summer reading options!
$50 Virtual Organizing Session BUY ONE GET ONE FREE for a limited time only!!! Purchase your sessions NOW!

If you would benefit from some side by side help and encouragement then Heart of the Matter would love to be your success partners. Mention this blog and get 15% off your project!
If you've enjoyed this content, please consider forwarding it on to a friend or giving us a review on google. Caring is sharing, and we sincerely appreciate anytime you are able to share us with those you care about!

Follow us on: Facebook | Twitter | Pinterest | Instagram | Youtube |

Was this email forwarded to you? Subscribe here so you don't miss the next one.